Desserts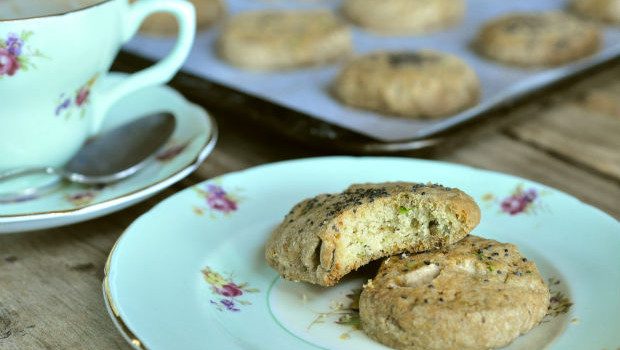 Published on September 29th, 2015 | by Gareth
0
Lemon, pistachio and rosemary biscuits
In the aftermath of what was possibly one the worst and most critical defeats Wales has inflicted on the English, I needed solice.
I am of course talking about the Rugby World Cup. Pains me to say it, but my beloved team truly snatched defeat from the jaws of victory. Ever wondered why sports fans grieve when their team loose, it's just a game right? Well, research into the psychology of sports fans has shown that testosterone levels can drop by as much as 20% when your team lose, which directly affects your mood.
As the pub was shut when the big England game finished, I responded in a quintessentially English manner – no I didn't get into a fight. I took stock over a cup of tea and a couple of homemade biscuits. The morning tea did help calm me, but it still took me several days to write this post, partly because I was still brassed off about the result.
Cut a long story short I want to share the recipe for the biscuits I had for morning tea: lemon, pistachio and rosemary biscuits. The biccies had a good crunch to them (perfect if you're partial to dunking them in your tea). More importantly, the lemon flavour cut through the butteryness of the biscuit, the pistachio added colour and extra texture (plus flavour) and the rosemary complimented it all by adding a subtle aromatic savoury-sweet element. Best of all, they are easy to make.
The original point of the story was that I needed cheering up. Turning to something familiar was welcomed. Morning or afternoon tea is a great British tradition and something that I urge everyone to do at least once a week with friends, at work, wherever. The point is to stop doing what you are doing, relax, take stock, recharge and enjoy the moment.
And this recipe for lemon, pistachio and rosemary biscuits will help any afternoon tea along nicely.
Prep time: 10 minutes
Cooking time: 15-20 minutes
Equipment: 2 Mixing bowls, baking tray, zester or grater
Ingredients
• 140g butter
• 110g caster sugar
• 1¼ cups plain gluten free flour
• 40g almond meal
• 50g unsalted pistachios – shelled and roughly chopped
• Zest of 1½ lemons
• 1½ tsp fresh rosemary needles – finely chopped
Directions
• Beat the butter and sugar until pale and creamy
• Fold in the flour, almond meal, rosemary and lemon zest to form a wet(ish) dough
• Turn the dough onto a lightly floured surface and roll into a sausage roughly 5cm in diameter
• Wrap in baking parchment or plastic food wrap and chill in the fridge for 20 minutes
• Preheat the oven to 160degrees
• Remove the biscuit dough sausage and cut into 1½ cm thick slices.
• Arrange on baking tray lined with baking paper
• Bake for 20 minutes or until golden brown
• Allow to cool for 20 minutes before eating
Excuse the green tinge to my photos, they are doing building works on our apartment block (for the next six months), and the green scaffold mesh is playing havoc with getting natural light for my photos. See below for my current window view.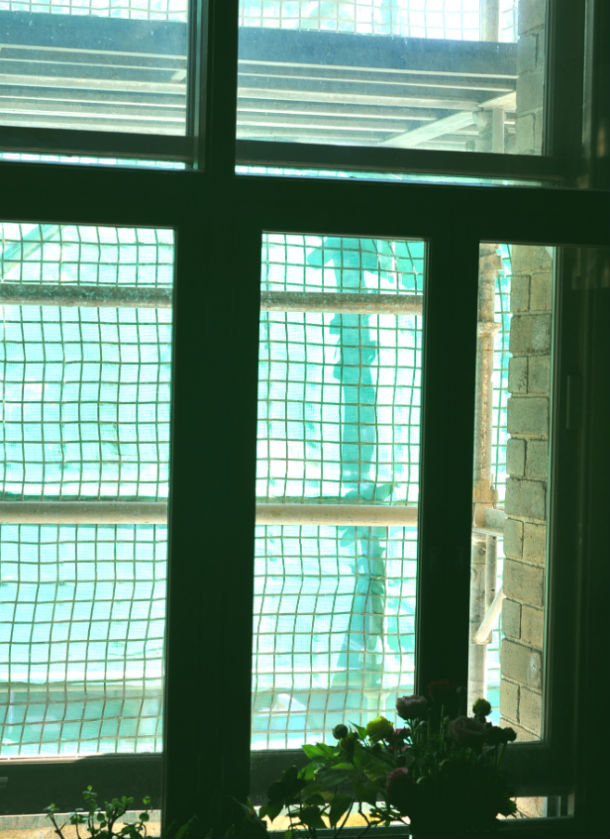 If you're interested in reading a more about the whole sports fan psychology, but don't want to plough through stacks of research, check out this article published in the New York Times.
Note: this is not the cup that I drunk out of for my post rugby match morning tea – far too dainty for my sausage fingers.