Soup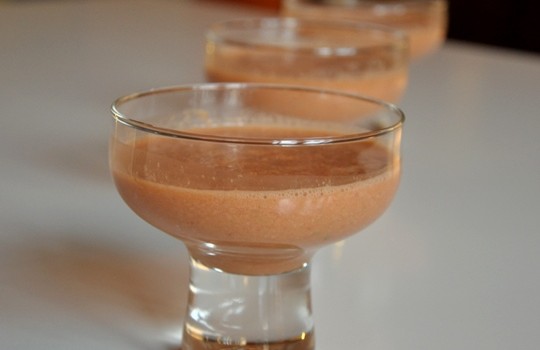 Published on December 14th, 2010 | by Gareth
0
Gazpacho, salad in a glass
Originating from Andalusia in southern Spain gazpacho is definitely a lot more than cold tomato soup.  Like so many traditional recipes there are a lot of varieties.  In fact, a quick search on Google reveals thousands of recipes, 72 pages of gazpacho related results, spell it incorrectly (gaspatchio, perhaps 'foodies' should be asking Santa for a dictionary rather than a mandolin) and the results expand to Spain and back again. This begs the question with so much gazpacho on the information super highway why add another helping?
I have been meaning to make some for a while now because the weather is hotting up in Sydney town (sorry Northern hemisphere readers but it regularly exceeds the 25 mark at the moment).  I was also inspired after seeing Frank Comoro (Chef and Author of Movida) whip up a batch at the Master Chef show last weekend. What's more, it's a great way to use up stale bread.  So it seemed rude not to share this refreshing and very healthy salad in a glass with you.
Ingredients (serves 8 people)
2 cucumbers, peeled
½ green capsicum
8-10 tomatoes, blanched
½ red onion
1 clove of garlic
200ml ice cold water
1 handful of old/stale crusty bread – the middle part of a baguette is perfect
A really good lug of olive oil
A splash of sherry vinegar (if this isn't available use red wine vinegar and 2 tbsps of sherry)
Salt and pepper to taste
½ chilli pepper (optional)
Method
Cross the bottom of the tomatoes and immerse them in freshly boiled water for a few minutes
Transfer the tomatoes to ice cold water to cool for a few minutes then remove and drain.
Get rid of the crust from the bread and soak the middle part in a little water.
Add the cucumber, onion (peeled, ends removed), pepper and capsicum to a blender.
Remove the skin from the tomatoes and add the flesh to the blender.
Squeeze the excess water from the bread and add this with the remaining ingredients.
Pulse in the blender a few times and chill for a further 20 minutes and you are ready to serve with a sprinkle of paprika on the top. This also makes a fantastic base for an amazing Bloody Mary.
I usually serve gazpacho in a glass but a bowl can also work. The consistency is a personal preference.  I like it a bit chunky rather than pureed just to give the texture a bit of variety. Don't stick to the recipe mix it up, I will be giving beetroot, mint and ginger a go as replacements for the tomato and chilli pepper.
If you try something different do share, keen to hear how it goes.