Seafood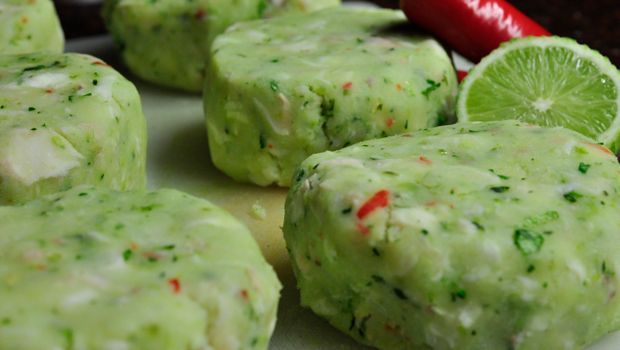 Published on November 11th, 2012 | by Gareth
6
Thai green fishcakes
Fishcakes seldom appear on the menu of the average 'gour-met' establishment unless they are disguised under the more appealing title of croquette. Fishcakes in Britain tend to be the domain of school dinners, the fish and chip shop and perhaps the supermarket frozen meal department. They just aren't glamorous tucker.
For those of you who have never experienced the joy of the humble fishcake; it is a pattie made from cold cooked potato and fish (usually a white fish). Some recipes call for the fishcake to be bread crumbed before being shallow fried in a pan. Traditionally they were a way to use up leftovers; the recipe appeared in Mrs. Beetons Book of Household Management in the 19th century (thanks Wikipedia), so it goes back a fair way.
My mum used to make them with cod or conger eel from Dads deep-sea fishing trips. Funny story about that, when I was a wee nipper my Dad had returned late from a fishing trip; to keep the giant fish fresh until the morning they were stored in the bath with ice and cold water. Unaware of Dads fish refrigeration solution I got a bit of a fright when I paid a visit to the bathroom and was greeted by the grey and silver monsters of the deep. Being a sleepy eight year old it was a bit of a surprise.
Anyway back to the fishcakes, I decided that this dish needed some sex appeal as even the name 'fishcake' sounds somewhere between dull and disgusting. I found my inspiration as often looking around a fruit and veg market and subsequently turbo charged the dish with Thai herbs and spices. I stopped short of crumbing it and making it into a croquette. The result goes perfectly with a tasty lime and chinese cabbage slaw salad and a cold cider.
Preparation time: 15 minutes
Cooking time: 10 minutes
Ingredients
(makes 8 fishcakes)
6 medium size potatoes, peeled and cubed
2 cups of cooked flaked fish (or prawns), I used 2 fillets of bream
Zest and juice of 1 lime
½ chilli, finely chopped
1 tsp. fresh ginger, grated
1 tbsp. desicated coconut
2 shallots, finely chopped
1 clove garlic, finely chopped
½ cup fresh coriander, chopped
½ tspn. Lemongrass, finely chopped
Method
Boil the potatoes; once cooked mash, season and set aside. I used a Kuhn Rikon Potato Ricer but an old school masher or fork does the job nicely.
As I didn't have leftover fish I cooked the sea bream in a pan over a low heat until they had just cooked and turned white.
Allow the cooked fish to cool and break up into flakes. Add to a large bowl with the mash.
Blend the herbs, coconut and limejuice into a paste, if you don't have a blender a pestle and mortar needs to be your weapon of choice.
Add your Thai paste to the potato and fish and blend together using your fingers. If you want to scrap the diet I found a knob of butter helps bind it together, an egg works just as well.
Form the mixture into patties about 2-3 inches thick.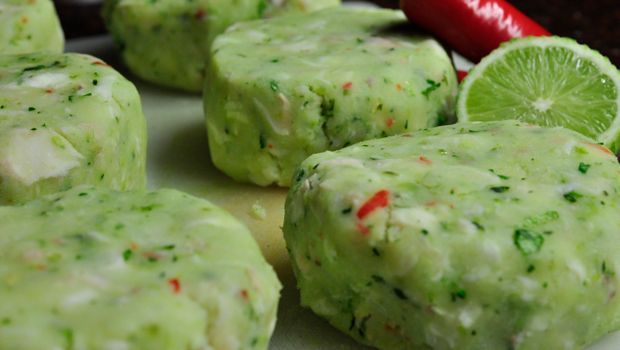 Lightly fry the patties in a hot pan with a good lug of canola oil over a medium heat. Cook for 3-4 minutes on each side until golden.
Serve hot with a salad, sweet chilli sauce and a pinot gris.