Seafood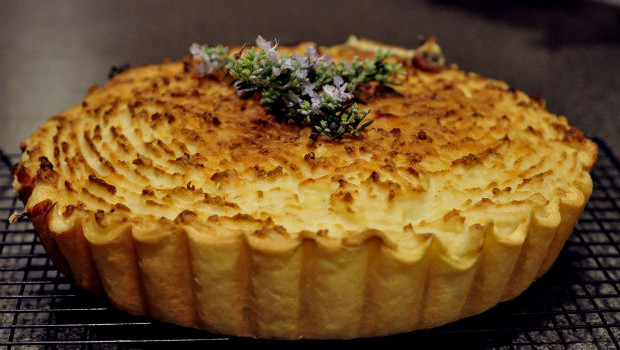 Published on April 15th, 2015 | by Gareth
0
Smoked fish tato top pie
The Coromandel is a peninsular three hours South East of Auckland.  It's a part of NZ often overlooked on the tourist trail. Which is a shame, because it has the nicest beaches in NZ (in fact some of the most beautiful beaches I've ever seen), with good surfing and diving, the scenery is spectacular (especially across the Coromandel Ranges and the seafood is plentiful. It reminds me of Cornwall in England, just a bit warmer and with more forest.
Last week, I stayed at a holiday home on the Coromandel in a small town called Whangamata, pronounced Fungamaata.  The backstory for the Coromandel is pretty interesting, originally inhabited by the fierce Maori people, the gold rush and logging opportunities brought the Europeans in the 1800's. And now, it's a sleepy holiday destination for Aucklander's that goes a bit crazy on New Years Eve.
There are lots of similar towns dotted around the Coromandel's rocky coast, if you ever get the chance to visit NZ, tag an extra couple of days and make a detour.
Beaches and history aside, I had one of the best pies, I've had in ages in Whangamata; smoked kahawai fish with a potato top at Oliver's Bakery. This wasn't that gaudy, bright yellow, liquid smoke crap, they daub the supermarket fish with either; it was the real deal, hot smoked fish that instantly gave your taste buds a kick up the arse. Their pastry was spot on and the filling was creamy, sweet, smoky and peppery all at the same time. The fish and potato combination is always an A lister in the comfort food stakes, but this pie was worth having another.
This combined with the 'coldest April on record' (common occurrence on renovation shows), made me want more! So here's my own 'tato' top smoked fish pie. It's perfect for a chilly day, loaded with flavour and protein and easy peasy to make. I'd still like the recipe that Oliver's use though, (reckon theirs has a definite edge on mine).
Prep time: 10 minutes
Cooking time: 30 mins at 180 degrees C
Equipment: 30cm pie tin and two saucepans.
Ingredients
500g smoked fish, I used kahawai, but mackerel is just as good
200g salmon – roughly chopped
200g hoki – roughly chopped
1 leek – green leaves discarded and white part sliced
½ cup cream
1 cup milk
25g butter
2 tbs plain flour
3-4 eggs – boiled and shelled (optional
1 cup cheese – grated (nothing too strong)
Good pinch of grated nutmeg
½ tsp ground black pepper
Salt to season
Lemon juice
1 packet of frozen short crust (savoury) or puff pastry pastry
5 potatoes – peeled, diced, boiled and mashed
Directions
Preheat oven to 180 degrees C
Heat a little olive oil in a pan and cook the leek over a low heat until soft
Break the smoked fish up and mix it in a bowl with the other fish
Mix in the leek and pepper
To make the sauce, in a saucepan, melt the butter, stir in the flour and cook on low heat for 2 minutes.
Add the cream, milk, nutmeg and 2/3rds of the cheese and simmer over a low heat until it thickens. Season with salt and pepper to taste and set aside.
Line a greased pie tin with the pastry, add the fish, leeks and optional eggs.
Pour the sauce over the fish and top with mash potato and the rest of the grated cheese.
Cook in the oven for 25-30 minutes then brown under the grill to crisp the mash.