Seafood Published on July 1st, 2010 | by Gareth
0
Spicy fish wraps with guacamole
This spicy dish is bursting with flavour, fresh produce and generally all things good for you. So it's perfect for keeping you fighting fit. Are we allowed to say that anymore? It uses one of my favourite deep sea fish which is ling. Ling is a really versatile fish, it has a subtle flavour but best of all it is a good firm, chunky fish. It is perfect for curries, the bbq and of course the old favourite beer battered fish.
Adapted from a Curtis Stone recipe.
Preperation time: 20 minutes
Cooking time: 5-10 minutes
Ingredients:
Fish
700g Fresh ling fillets cut into strips
Juice of ½ lemon
½ Tsp coriander powder
¼ Tsp Cumin
Pinch chilli powder
¼ tsp Paprika
Wraps
Fresh Lebanese flat bread or tortillas
Baby spinach leaves
Tomato Salsa
1 Small red onion
2 Tsp fresh coriander – finely chopped
Pinch of chilli powder
2 Tblsp olive oil
3 Roma tomatoes – diced
1 Tsp Cumin powder
Guacamole
1 Avocado
Juice of ½ lemon
1 tsp fresh chilli, finely chopped
1 tsp finely chopped red onion
Salsa
If possible make the salsa an hour in advance as it brings the flavours together nicely.  Finely chop the onion and put into a bowl, then add the tomatoes, diced.  Add the remaining ingredients, mix, cover and set aside.
Guacamole
Scoop out the flesh of the a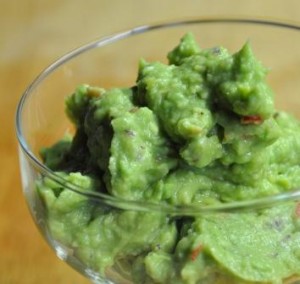 vocado, I mashed it up into a paste, but you can just dice it or lightly break up with a fork. Add the rest of the ingredients and mix them thoroughly. Season with salt and pepper, cover and refrigerate until needed.
Fish
Prepare this about 5-10 minutes in advance. In a container mix the lemon juice and spices together. Cut the fillets into strips about 3-5cm wide. And add to the lemon juice and spice ensuring every side of the ling strips are well coated. Cover and refrigerate until ready to cook.  To cook them I pan fried with a little olive oil for a minute or two each side until golden. How long depends on the thickness of your strips of ling.
All that remain is to assemble with the tortilla and baby spinach leaves then enjoy your hard work. I feel so healthy I think I deserve a another drink.