Seafood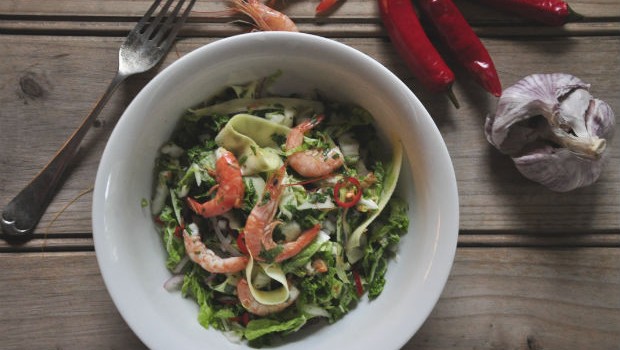 Published on November 3rd, 2013 | by Gareth
3
Spicy green mango and prawn salad
A few years ago, I visited Slanted Door, a Vietnamese restaurant owned by Charles Phan in San Francisco. The food was pretty fantastic, thanks Uncle Lawrie for the recommendation.
Anyway, last Christmas Nina managed to track down his cookbook, which was published in late 2012. In between Christmas cooking and spending time catching up with friends, I managed to steal excited moments with my new food porn.  I love Asian food, but I don't often make it at home. Maybe, it's due to unfamiliarity, maybe laziness. The book is a good read, focusing on Vietnamese home cooking and the ingredients.
It's only in the last few weeks though (ten months later), that I've actually used the book for inspiration. Pretty crap of me I think. This is my own recipe, not from the book and not even authentically Vietnamese. However, I have tried to use some of the fundamental flavours of Vietnamese cooking. The ingredients I chose are fresh and put emphasis on contrasts; crunchy and smooth, sweet and salty, spicy and cooling. The green mango is arguably as much Thai as Vietnamese. But it adds a wonderful tartness that offsets the sweet school prawns and palm sugar.
The result, I think, is a very tasty and very healthy easy to make salad. I'm keen to make Charles Phan's pho, I'll let you know how I go.
Prep time: 10 minutes
Serves 4
Ingredients
500gm small school prawns – cooked. If unavailable any cooked prawn will suffice. Alternatively, some medium rare beef cut into thin strips will also work well.
½ Chinese/wombok cabbage – washed and shredded. Cos lettuce is a good substitute
2 red chilli – deseeded and finely sliced
1 cup of fresh mint leaves – finely chopped
1½ cups of fresh coriander (cilantro) leaves – finely chopped
1 green mango
3 shallots – peeled and finely chopped
½ red onion or 3 spring onions (scallions) – finely chopped
Handful of toasted peanuts (unsalted) – crushed and roughly chopped.
2 cloves garlic
1 large ripe lime
3 tbsp. good quality fish sauce
1 ½ tbsp. grated palm sugar
Method
In a pestle & mortar, grind the garlic and one of the chillis to a pulp.
Add the juice of the lime, the palm sugar and the fish sauce. Adjust to taste and set what will be the dressing aside.
If your using school prawns, remove the heads, the shell and legs are optional to remove but not essential as you can eat them. If using larger prawns, shell and devein. Set aside.
Peel the mango and using a vege peeler, cut the mango flesh into thin ribbons.
In a large bowl toss the Chinese cabbage, coriander, mint, onion, remaining chilli, prawns, shallots and the toasted peanuts with half of the dressing. Pour the remaining dressing over the top of the salad.
How much time elapses between receiving a new cookbook and using it?