Seafood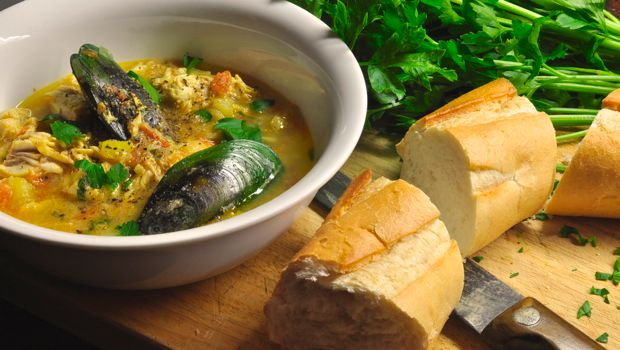 Published on May 19th, 2013 | by Gareth
0
Fish Stew from Liguria, Italy
Continuing with the Italian theme from last week I made a Ligurian fish stew this weekend. My first thought when I was reading about the recipe was that Ligurian sounds like a race of beings in Star Trek "the Ligurians are in alliance with the Klingon empire". I'm not a Trekkie but I did see  Star Trek Into Darkness last night (really enjoyed it, if you're wondering), perhaps this subconsciously seeped into my thoughts.
Back to the real Liguria, it's probably Italy's smallest region, located on the North West coast between France and Tuscany. Sometimes dubbed the Italian Riviera, it's a narrow strip of coast made up of small bays, the deep waters of the Ligurian Sea and towns including Genoa and Cinque Terre.
Ligurian fish stew is very similar to bouillabaisse, unsurprising given the close proximity to France. Like bouillabaisse you can use pretty much any fish, I used skate (ray) wings partly out of curiosity partly so I could save some money for the trip. This was fine but I'd also recommend using a couple of varieties of firm fish like ling, haddock and red mullet. Other ingredients common to both fish stews are prawns, mussels, tomatoes, fennel and saffron.
Traditionally it was fisherman's fare, cooked with whatever the catch yielded so it told a story of their day and what was plentiful beneath the waves. I love the simplicity of dishes like this, especially the regional and seasonal combination of produce from the land and sea.
Prep time: 10 minutes
Cooking time: 25-30minutes
Ingredients
1 ltr good quality fish stock (preferably home made from fish bones, prawn shells, carrot, onion and herbs)
1 red onion – sliced
6 large prawns – deveined
10 mussels – scrubbed and de-bearded
250g ling – filleted and cut into large chunks
300g red mullet or snapper – filleted and cut into chunks with skin left on
200g skate wings – skinned, filleted and cut into chunks
6 fresh roma tomatoes – cut into chunks (tinned toms also work)
4 Desiree potatoes (or any other waxy variety) – peeled and diced into large cubes
1 pinch (tsp.) saffron threads
1 medium bulb of fennel – sliced
1 cup dry white wine
2 cloves garlic – crushed and finely chopped
½ bunch of fresh flat leaf parsley leaves – chopped
Olive oil
Method
Heat the oil in the pan and add the onion and fennel, fry over a low hear until soft (approx. 5 mins). Take care not to brown.
Add the garlic and cook for a further minute.
Add the tomatoes and turn up the heat for 5 minutes.
Pour in the wine, add the potatoes, fish stock and the saffron, bring to the boil for 1 minute then reduce the heat and simmer for about 10 – 15 minutes.
Stir in the fish and prawns and simmer for 4 minutes, then add the mussels and cook for a further 2 minutes (or until the mussels have opened – discard any that don't open after 2 minutes).
Serve hot in bowls, garnish with the chopped parsley, a splash of olive oil and some fresh crusty bread.
And if you want to know how to prepare skate wings (they are really good coated in seasoned flour and pan fried)
What films have made you think differently about a recipe?