Reviews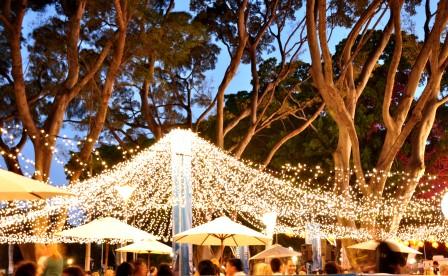 Published on November 1st, 2010 | by Gareth
Night Noodle Markets – Crave
I recently went to the night noodle markets, which was the major event for the Crave Sydney International Food Festival. Well actually it was about 10 days ago now but I have been very busy cooking, thinking about life's challenges and then eating what I have just cooked.
Back to the noodle markets, held under the lush boughs of Hyde Park's mature fig trees for two whole weeks in October, it was touted as the "key public event of the Festival".  Featuring over thirty Asian street food style stalls there was something for everyone.  We hit there before sunset, along with half of Sydney as they spilled out of the city offices.  Never before had I seen so many corporate sorts lounging in the park tucking into Asian takeaways.  As night fell the suits were replaced with the mystical blue and green lights of Hyde Park and the red festival lanterns.  The atmosphere was enhanced by the rhythmic crash of the drums and symbols accompanying the dancing Chinese dragons.
When it came to the food, there was more choice than space in my stomach.  We ordered a spectacular array of treats to share.  From the Malaysian tent we had Nasi Lemak with beef rangdang, ikanbils, and peanut pickle, egg with onion and chilli sambol.  The most unusual part of this was the small dried fish served with some form of chilli, different but very tasty.
We also ordered a chicken curry with coconut rice also from the Malay store.  From the Thai tent we grabbed Pad Thai and saffron chicken with an extra helping of chilli flakes (on the side so the more delicate palates of the group weren't subjected to death by blow torch to the tongue (Ed. – he means me)).  This was complimented by several glasses of Prosseco.
It was a fantastic evening, very well organised, plenty of tables and chairs for everyone and it was reasonably priced.  The toughest part was deciding what stand to sample from next.
One thing I was unsure of was why there was a Turkish Gözleme stand. Great hawker food but not sure Asia Minor actually counts.