Red Meat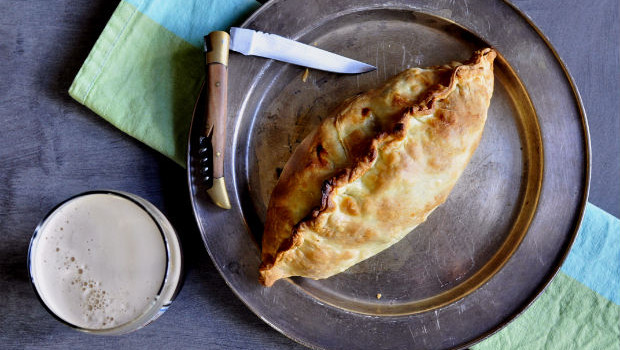 Published on February 22nd, 2015 | by Gareth
2
St Patricks Day Guinness pasties
St Patricks Day is just over 3 weeks away, a national holiday for the Irish (since 1903) and a day when the rest of us pretend to be Irish just for the craic.
It's a day for enjoying a pint or three of the black stuff, all soaked up with a bowl of Irish stew. Well, that's fine in the Northern Hemisphere, where it's still cold and miserable. But lets be honest, it's a bit on the heavy side for summer time in Sydney. Too much of that fare and you're sinking to the bottom of the Bondi sea pool.
A St Pats Day BBQ or picnic seems more befitting the weather. So, I made a Guinness stew filled pasties (pronounced  pas-tee not paste-ee). They're still a tad on the heavy side, but they're portable and good hot or cold. Pasties are also perfect for serving to your mates if you're watching the rugby.
Prep time: 10-15 minutes
Cooking time 3-½ hrs.
Equipment: Saucepan, oven proof dish with a lid
Ingredients
1 kg skirt/chuck or gravy beef
2 carrots – peeled and diced
1 onion – finely chopped
2 Desiree potatoes – peeled and diced
1 celery stick – finely chopped
300ml Guinness draught stout
350ml beef stock
8 stems of fresh thyme
1 bay leaf
Salt and pepper
Short crust pastry
Directions
Preheat the oven to 180 degrees.
Pan-fry the beef in small batches using a little vegetable oil. You want to caramelise the outside to add flavour.
Add the beef to the ovenproof pot
Put the onions, carrot ad celery into the pan and lightly brown. Add to the pot with the beef and season with salt and pepper.
Deglaze the pan with the Guinness; make sure you get all the brown sticky bit off. Then add to the pot with the beef and veg. Stir to ensure everything is evenly distributed.
Pour the beef stock into the oven dish and add the thyme and bay leaf.
Put the lid on the pot, cook in the oven for 2-3 hours or until the meat easily breaks apart.
Allow to cool (or serve as with veg if in the cold North).
Roll out the pastry, to the thickness f a dollar/pound coin. Using a side plate, cut pastry circles. Wet the edge half round (semi circle), this will help ensure a good seal when you close it up.
Add 2 -3 spoonful's of the stew and bring both sides together. Press to make a seal, then crimp between your thumb and fingers
Brush with milk or egg and bake until golden brown for 25 minutes.
Serve hot or cold with a cold Guinness.