Red Meat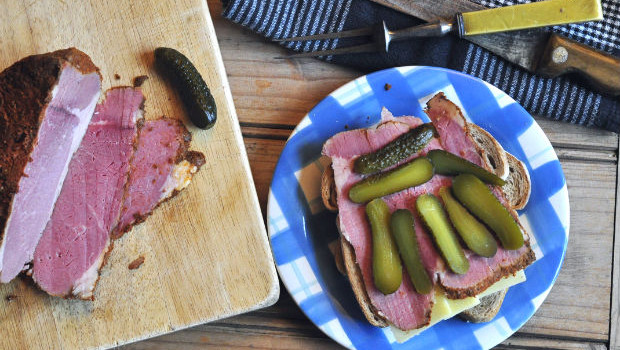 Published on July 3rd, 2015 | by Gareth
3
Spicy pastrami
Sydney Town has got progressively colder this week, the temperature is dropping to 7 degrees celsius tonight. My pals in Canada are probably laughing their moose-hair socks off at my suggestion that 7 degrees is cold. Meanwhile, in dear old Blighty, the temperatures are soaring to 35 degrees. But apparently there is no such thing as anthropological climatic change. And yes, I know I am obsessed with the weather.
Anyway, this week I wanted a real food challenge, something quite different. As it's the 4th July here on Saturday, I thought something for our cousins in the U.S. would be good. So I looked to the New York deli's for inspiration and made pastrami.
I also had an ulterior motive for making something that was picnic friendly (not that it's picnic weather here); I was looking for something to share for a monthly food blogger initiative called Our Growing Edge. The purpose is to connect food bloggers and inspire us to try new things, this months theme is picnics and is hosted by Maddie from Supper Lovin
I've never made pastrami before, so I had to do a fair bit of research to do. It turns out that pastrami actually originates from Turkey. Somehow from Turkey, it made it's way to Romania and in the mid 1800's, Jewish Romanians took it to America. The rest is history.
For those not in the know, pastrami is meat (traditionally beef),that has been brined, seasoned with spices, then smoked and steamed. It produces beautifully moist, tender and spicy meat, that's perfect for sandwiches. It's usually served on rye bread with pickles and mustard.
The Yanks, tend to use beef brisket, but when I discussed the idea with the Butchers at Peters Meats in Broadway, they recommended silverside (outside round in the U.S.), as it's leaner than brisket.
I used a simple oven based recipe from Toriavey, (who in turn got the recipe from a Jewish delicatessen in Portland). Although the original recipe calls for the use of sodium nitrate, I decided to take the nitrate free route. As far as I can tell using sodium nitrate is as much to preserve the pink colour of the meat, as it is to kill bacteria, (I'm also not convinced that sodium nitrate is good to use in cooking). And since I was brining then cooking for 2 hours (plus eating within a week), I decided it was safe enough to chance not using sodium nitrate.
It was a bit of a lengthy process, in that you have to brine it for 5 days, then cook for 2 hours, but the end result was fantastic and tasted very authentic. It was certainly worth the wait.
Cooking time: 2 hours
Prep time: 5 days
Equipment: Large stockpot, 4 litre container and a large roasting tin with rack
Ingredients
800g-1kg beef silverside (or brisket)
Brine
½ cup of salt (any salt will do, I used iodised cooking salt)
3 ltrs water
½ cup of raw sugar
¼ cup soft brown sugar
1/3 cup honey
1 tblsp pickling spice
1 tblsp whole mustard seeds
1 tblsp whole coriander seeds
½ tsp cinnamon
½ tsp white pepper
2 cloves of garlic crushed
Spice rub
1/3 cup ground corriander
1 tblsp freshly ground black pepper
1 tblsp smoked paprika
Directions
In the stock pot, heat the water with the sugar, honey, garlic, salt and spices, until it begins to boil and the sugar and salt has dissolved.
Remove from heat and allow to completely cool.
Put the meat into the 4 litre container.
Pour the brine mix into the container, until the meat is completely submerged.
Cover with a lid or plastic wrap and put into the refrigerator for five days.
Turn the meat on a daily basis (and stir the brine at the same time so all the spice/salt doesn't settle at the bottom).
To cook the pastrami, drain the brine and dry the meat with a clean tea towel or paper towel.
To make the spice rub, combine the 3 spices in a bowl.
Set the meat on a roasting rack (fatty side down) and apply the spice rub.
Apply 1/3 of the spice rub to the fatty side and the remainder to the other sides.
Put the rack over a roasting dish, with 3-4 cups of water in the bottom of the tray. It's important at this stage that the pastrami is fatty side down.
Cover the meat and tray with foil, this will help lock in the steam and keep the meat moist.
Let the meat come to room temperature (about 30 minutes).
Bake at 150 degrees C, until the meat reaches 95 degrees. This will take about 2hrs per kg.
Serve hot or cold in a sandwich on rye bread with sauerkraut or gerkins.
Wrapped tightly in foil and stored in a sealed container in the fridge, the pastrami will last about 1 week in the fridge.
FYI – You'll be pleased to know, I have enjoyed several sandwiches and haven't suffered any ill effects from the absence of the sodium nitrate.