Chicken Published on August 10th, 2010 | by Gareth
0
Coq au Sav Blanc
This is adapted from a Nigel Slater recipe. It's straight forward, no nonsense, honest, tasty food. Not the healthiest meal I have ever made but it tastes damn good.
Prep Time: 10 minutes
Cooking time: 1 ½ hrs
Ingredients
2 Chicken quarters, 2 drumsticks and 2 wings all on the bone
2 slices streaky bacon
25gm butter
2 tblsp olive oil
2 Medium sized onions
2 Cloves garlic
200g small mushrooms
2-3 Cups Sav Blanc wine
200ml Double cream
4 Tblspns freshly chopped parsley
Heat the oil in the pan, add the bacon. Cook until browned and sticky but not crisp. Now add the chopped onion and garlic with a small knob of butter. Cook slowly over a low heat. After about 10 minutes the onion should be soft and translucent but not browned. Remove from pan and set aside.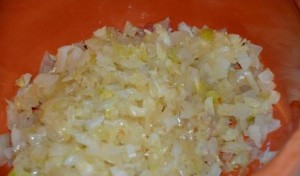 Add the chicken and brown on each side on a medium heat, add the mushrooms.
Stir for about 5 minutes then put the onion and bacon then add the wine. Bring to the boil then transfer to an oven proof dish, cover with a lid or foil and put in a preheated oven (180 degrees) for 40 minutes.
Remove from oven and strain the liquid off in a pan, add the cream, parsley and season. Stir together over a medium heat. When the cream begins to bubble pour the creamy sauce over the chicken in the oven proof dish and serve with a fresh crusty loaf and green vegetables like string beans or broccoli.