Pork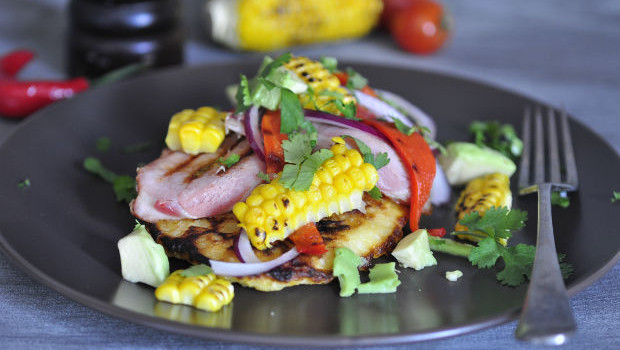 Published on May 22nd, 2014 | by Gareth
4
Sweet corn fritters, bacon and salsa
Each year at Rabo, we do a corporate voluntary workday for a charity of our choice. So I've been busy looking at options for our team. Being a bit of a closet hippy tree hugger I'm keen on tree planting, but animal and kid related charities are pretty popular. Guess I'll have to see how green the rest of the team are.;
Now, talking of the environment, this recipe is a bit of a recycle/re-purpose dish. The original idea came from a local cafe (Café XXII in Pyrmont), where they serve sweet corn fritters with an avocado salsa and smoked bacon. It's pretty damn good and hard to beat.
I'm making an effort to eat 5-A-Day, I wanted to up the vege content of the dish. So, I've gone double corn. Sweet corn is packed with fibre, has antioxidant properties AND like carrots, it's good for your vision. Plus, by using a sweet corn salsa I can introduce a bit of heat from some chilli. Rest assured though, the smoked bacon stays!
This is a fab breakfast, brunch or lunch treat to share with friends. Bursting with flavour, I'm confident you'll be looking for seconds (it you aren't too full). If you're confused how it's in the pork and the vege category, skip the bacon and it's vege friendly.
Prep time: 10 minutes
Cooking time 10-15 minutes
Equipment: Frying pan, saucepan, knife, chopping board, BBQ (optional)
Ingredients – makes approx. 6 pancakes
1 can creamed corn
1 egg
125g flour
1 tsp. baking powder
Smoked bacon
2 cobs sweet corn – husk removed
1 lime
1 red capsicum – deseeded and cut into quarters
2 tsp. palm sugar – grated. Soft brown sugar works well too
1 bunch coriander – roughly chopped
1 red chilli – deseeded and finely chopped (optional)
1 avocado – peeled and diced
¼ red onion – peeled and finely sliced
Sour cream
Method 
Boil the sweet corn for 6 minutes then drain and set aside.
Heat the bbq up (or use a griddle pan), when hot lay the capsicum skin side down on the hot grill. Allow the skin to char, then set aside to cool.
Lightly char the sweet corn on the bbq or griddle, remove and allow to cool.
Lightly whisk the egg, add a tablespoon or two of water and whisk in.
Sift the flour and baking powder then stir into the egg.
You may need to add a splash of milk to bring it to a batter consistency (don't make it too runny, otherwise you'll attract dragons).
Stir in the creamed corn and set aside.
Juice the lime into a bowl, stir in the sliced chilli and grated palm sugar/brown sugar.
Scrape the charred skin off the capsicum and cut into strips.
Remove the kernels of sweet corn from the cob with a knife.
Heat a frying pan on a medium heat and add a tablespoon of olive oil.
When hot, measure a large mixing spoon (or ladle) full of the creamed corn batter into the pan for your first sweet corn fritter. Repeat as necessary, but ensure the individual pancakes don't touch – otherwise they will fuse into one plate sized fritter.
When you see the fritter bubble, it's time to turn it over.
In a separate pan cook the bacon.
Mix the sweet corn kernels, capsicum, avocado and ½ the chopped coriander with the lime juice.
Arrange two fritters on a plate, stack one or two slices of bacon (read 2 or 3 slices) on top.
Top with a few spoonfuls of the sweet corn salsa and dress with a sprinkle of chopped coriander and a dollop of sour cream.