Pork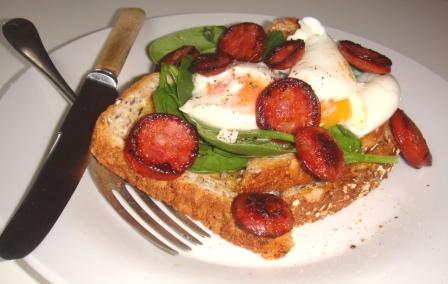 Published on June 3rd, 2010 | by Gareth
Poached egg and sauteed chorizo
Lunch on toast: Posh sausage and egg, ideal to chase away a hangover
Continuing with the second in my 'lunch on toast' theme, this week's recipe uses chorizo to give it a wonderful Mediterranean flavour.
For those not in the know, chorizo is a spicy pork sausage that originates from Spain. The smoked paprika used to season the meat gives the sausage a beautiful burnt orange/red colour with a smoky in flavour. The darker the colour and more irregular in shape the better in my opinion.
Ingredients (per serve)
 ½ Chorizo sausage
2 Slices of thick full grain or sour dough bread (toasted and buttered)
Whole baby spinach leaves
2 Eggs (preferably free range – they taste nicer)
Salt, pepper and paprika to season
This will take probably under 10 minutes to make – provided you get all your ingredients ready. You want to aim to have the eggs ready at the same time as the sausage.
Slice the chorizo and sauté in a frying pan on a medium heat. I used a non stick pan so didn't add any oil but you may wish to add a splash of olive oil. Whilst the chorizo is sautéing, cook your eggs it doesn't matter if you poach, boil or scramble them, though I prefer poached or boiled as the runny yolk tastes great and great contrast in colour.
Now toast the bread, once toasted and buttered (optional) scatter the spinach leaves, add the egg on top followed by the hot sautéed chorizo.
Finish by sprinkling some smoked paprika over the top and season to taste with salt and pepper. Told you it would be easy!