Pork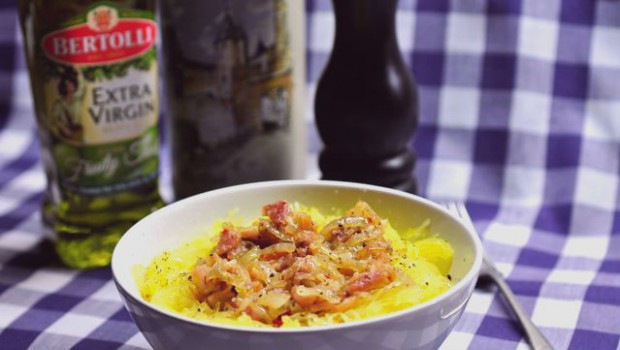 Published on July 5th, 2013 | by Gareth
2
Spaghetti squash Italian lunch
I recently received a very generous olive oil care package from the nice people at Bertolli. This combined with my forthcoming trip to Italy had me hankering for Italian Sunday lunch last week, but what to make? Instead of trawling cookbooks for inspiration I headed to Harris Farms, that's where I saw spaghetti squash.
I'd read that when boiled the flesh of this particular squash would be like spaghetti. Admittedly I was pretty skeptical that a squash boiled for half an hour could deliver anything other than something resembling colourful porridge. All in all it sounded as appealing as putting on cold wet togs on a winters morning.
Fortunately I cast aside my doubts and gave it a whirl and was pleasantly surprised by the results. Dry straw in colour, the texture resembles vermicelli noodles and the flavour has a clean nutty quality.
Since talking to friends, it seems I am the last person in the world to discover this vegetable, it also happens to be very low in carbs but still quite filling. If you can find it, try it, it's different but good.
Preparation time: 5 minutes
Cooking time: 30-40 minutes
Ingredients
1 large spaghetti squash
1 slice of pancetta, speck or streaky bacon – roughly chopped
1 onion – diced
2 cloves garlic – finely chopped
1 dried bay leaf
Olive oil
Salt and pepper to season
Method
Boil the squash, ideally whole for 30-40 minutes. You can cut the squash in half to fit in the pan, but I' d recommend against it as it can make the squash excessively soggy. And nobody likes soggy.
Heat the olive oil in the pan and cook the onion over a moderate heat for 10 minutes. Stir occasionally to prevent browning.
Add the garlic, bacon and bay leaf and cook for a further 5 minutes.
Remove from heat and set aside.
When the squash has finished boiling, drain and scoop out the seeds.
Use a fork to scoop out the flesh into a bowl. At this point the squash flesh will resemble vermicelli noodles.
Spoon the bacon, onions and garlic onto the squash, season and drizzle with a little olive oil.
Chilli flakes, sprinkled on top are a tasty but optional addition.
Serve and eat hot.
When was the last time you were sceptical about food? And what's your favourite Italian dish?