Pork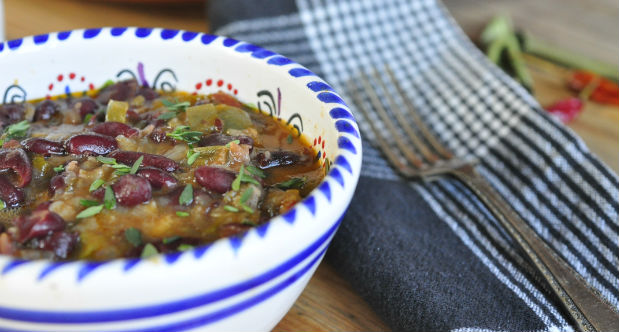 Published on August 9th, 2015 | by Gareth
1
Smoky pork and beans
Flicking through Humble Crumble's posts for the last few months, I noticed a distinct skew towards desserts, some people love the cake. Which is fine, but I am more of a savoury chap, so I felt the need to bring a bit of balance back. More importantly, a crowd of us were getting together to watch a game of rugby (plus celebrate a pals birthday) and I needed to take a plate. In my mind canneles or butterfly cakes, weren't going to cut it. I wanted something to suit the occasion, something hearty and meaty. We were watching a game of sport after all #meatfest
Cue slow cooked smoky pork and beans, which is incredibly similar to a French cassoulet. Not surprising though, given the base recipe came from New Orleans, courtesy of AL Brown's book Stoked. As I couldn't find smoked sausage, (required in the original recipe), I used Chorizo and a teaspoon of smoked, hot paprika. The result was fantastic, the sauce was spicy, rich and thick and with each fork full, I was rewarded with a piece of ham or Chorizo. One of my favourite dishes I've made so far this year. Perfect for the rugby – even though my team lost.
Serve with rice, or crusty bread (probably should have some veggies too), it's the time of thing, I can imagine someone in the deep south enjoying with corn bread and a glass of Bourbon. Or is that too cliche?
Although it takes a while to cook, it's easy peasy lemon squeeze to make! One tip though; don't add salt until you've tasted though as you'll get plenty of salt from the ham hock.
Prep time: 5 minutes
Cooking time: 2hrs
Equipment: 1 large heavy stockpot
Ingredients
3-4 red onions – diced
4 sticks celery – diced
1 green capsicum – deseeded and diced
4 cloves garlic – finely sliced
2 chorizo – diced
1 medium sized smoked ham hock (approx. 800g-1kg)
2 bay leaves
1 tsp. hot, smoked paprika
3 x 400g tins red kidney beans (or if you have time to soak over night, 500g dried and kidney beans)
2ltrs. water
Leaves from a bunch of fresh thyme
Directions
Put a couple of tablespoons of olive oil to heat in the stockpot, then add the onions, garlic, celery and green pepper. Cook for 5-10 minutes over a low heat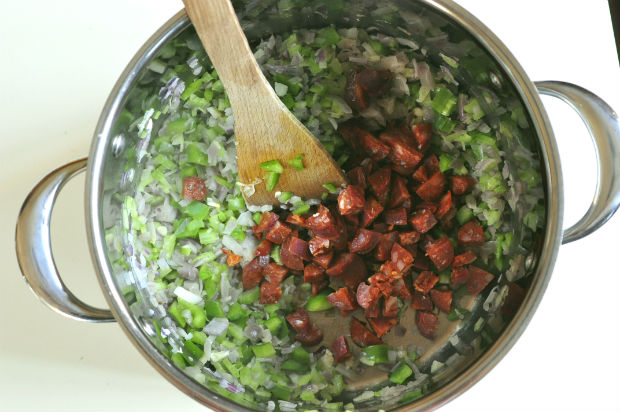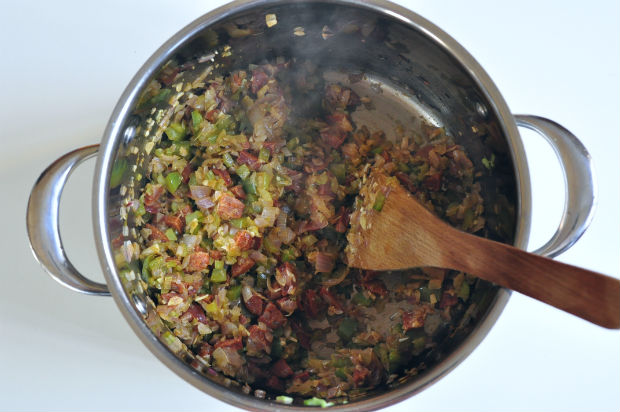 Increase the heat and add the diced chorizo and cook until lightly browned, (about 5 minutes)
Add the herbs, smoked ham hock and water, bring to the boil, then reduce to a simmer
Simmer for 30 minutes, then add the beans
Allow to cook over a low heat for a further 1 ½-2hours until the meat on the ham hock falls off
Discard the ham bone, skin and the bay leaves. Break the meat up into small pieces
If the stew has too much liquid, either reduce further by simmering for another 20 minutes or add 1 teaspoon of corn flour to thicken the sauce
Garnish with fresh thyme leaves and serve