Pork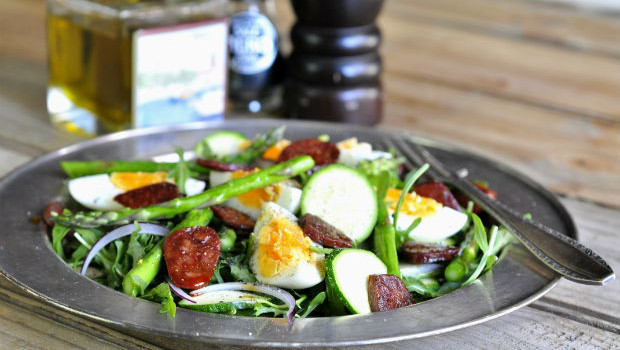 Published on October 15th, 2014 | by Gareth
1
Chorizo, asparagus and rocket salad
Have you ever underestimated the amount of time something will take? The last three or four weeks have been exactly that for me. On the 29th of September I became the proud father of baby Julius (nicknamed Lord Pip Poo-Farty 1st). Huzzar!
I naively thought that I would get the wee man to accommodate my designs on cooking and blogging. Lord Poo-Farty had other ideas.  Now, it's been recently claimed that black holes don't exist. I disagree; I even have proof in the shape of a 3-week-old baby boy. He is without a doubt a huge (but loveable) suck of time, energy and matter.
I've basically become Lord Poo-Farty's sleep deprived, zombie like state, pit crew.  Because mother-nature (thankfully), hasn't equipped us blokes with the ability to breast feed; I've been practicing my lullaby singing and nappy changing skills at all hours. My one tip so far, get a Batman utility belt.
It's situations like this when people stop eating properly and opt for takeaways and toast. So my belated post today is for something quick, simple and nutritious (mum needs to keep her strength up as does dad). It doesn't really fit the weather in Sydney this week, but it does taste very good.
Health benefits
Asparagus – High in folate, antioxidants, and vitamin K (for healthy blood clotting and bones).
Rocket – high in folate (helps fight cognitive decline), high in chlorophyll which helps prevent DNA and liver damage.
Eggs – high in Selenium (healthy hair and eyes), b vitamins and protein
Courgette – rich source of vitamin C, manganese and promote healthy eyesight
Prep time: 5 minutes
Cooking time: 10 minutes
Equipement: Frying pan, chopping board, knife
Ingredients – serves 2
2 fresh courgettes – finely sliced
1 bundle of asparagus – char-grilled
2 handfuls of fresh rocket leaves
1 Chorizo sausage – sliced
2 eggs – hard-boiled, shelled and quartered
¼ red onion – finely sliced
Directions
Hard-boil the eggs for 10 minutes. Cool in cold water (prevents the yolk turning grey). Shell the eggs and cut into quarters.
Wash the asparagus and cook in a dry frying pan or griddle over a medium heat until it is soft and begins to brown. Remove from pan and set aside to cool.
Add a little olive oil to the pan and fry the chorizo over a medium heat until cooked.
Arrange the rocket on plates; add the egg, asparagus, red onion and courgette slices and the cooked chorizo.
You can either drizzle the oil from the chorizo pan over the salad (great with the juice of a couple of cherry toms); or for a healthier option mix 50/50 virgin olive oil and caramelised balsamic vinegar.
That's it.
Just for the record, despite the lack of sleep, I am enjoying being a dad.
When have you ever underestimated the time something takes and did it impact how well you ate?