Pork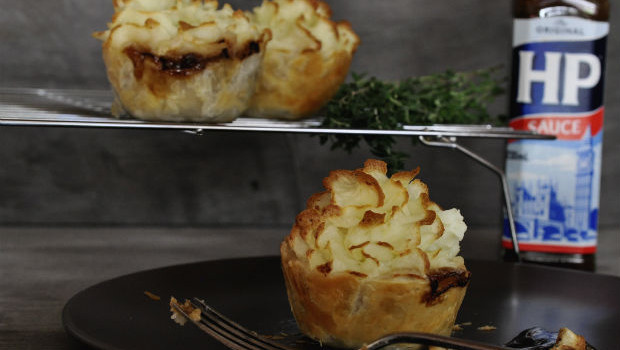 Published on August 10th, 2014 | by Gareth
6
Mini bangers and mash pies with onion gravy
Bangers and mash have long been a favourite staple of many a Briton (and the Aussies & Kiwis).  It's cheap(ish), easy, hearty, delicious and thoroughly comforting.  It's the right stuff to cheer you up when you get home with soggy shoes and icicles on your nose during winter.
The trouble is, winter in Sydney really isn't winter at all, more like early summer in Essex. Today was a glorious day in Sydney, with temperatures hitting 22 degrees, (the same as in London for the coming week, only its summer there).
Despite this, I had a taste for bangers and mash covered in homemade onion gravy.  Yep, you can take the Brit out of Britain but…….So to make for a lighter option, (though not in terms of calories) I made mini bangers and mash pies.
These tato top gems are perfect party food, easy to eat and moorishly good. I challenge any non-vegetarian to resist a second one.
Prep time: 10 minutes
Cooking time: 30 minutes for the onions and 30 minutes for the pies once in the oven.
Equipment: Deep non-stick muffin tray, 2 large saucepans, potato masher or ricer, oven proof dish or tray, 6 inch cookie cutter, knife and chopping board.
Ingredients – makes 10
Onion gravy
5 medium sized onions – peeled and finely sliced
300ml beef stock
3 sprigs of fresh thyme
1 tbsp. of sherry, red wine, port or red wine vinegar
1 tsp. soft brown sugar
30g butter
1 tbsp. olive oil
Mash tato top
4 large potatoes – peeled and diced – King Edwards, Russets or Desiree are best for mash
50g butter
200ml milk
Filling
4-6 sausages – buy the best quality pork sausages you can afford (look for ones with at least 70% meat)
Pastry base:  I cheated and used 2 pre rolled frozen sheets of puff pastry. If you have time though, make your own shortcrust
Method
Preheat oven to 190 degrees, then tray up your sausages and bake them for 30 minutes. Baking sausages turns the skins crispy, sticky and brown. When cooked, remove from oven and set aside.
Heat the olive oil and 30g of butter in a saucepan and add the onion. Reduce the heat and cover with a lid to allow the onions to sweat. After about 15 minutes the onions should be soft. Add the sherry/red wine vinegar and sugar, stir in and cover for a further 5 minutes.
Add the beef stock and the leaves from the thyme. Bring to the boil, then simmer until 1/3 of the liquid has reduced. You should have a glossy, rich thick gravy/sauce.
Half fill the other pan with water, add the diced potatoes and bring to the boil for 10-15 minutes until soft. Drain, the potatoes, return to the saucepan and add the milk and the remaining butter and mash.
Grease the muffin tins, cut the pastry into circles and line the muffin tin with the pastry circles.
Roughly chop the baked sausages and mix in with the onion gravy. Spoon equal portions of the mix into each pastry base, then top with mash potato. (I used Nina's icing piping syringe for ease).
Whack in the preheated oven on 190 for 30 minutes.
Serve hot with a dash of HP Sauce.