Pork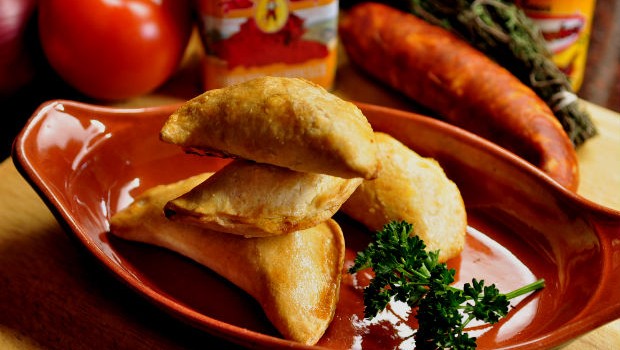 Published on June 30th, 2013 | by Gareth
0
Chorizo and chickpea empanadas
According to Wikipedia, the word stereotype comes from two Greek words, stereos (solid) and typos (impression), so solid impression. Is there anything the Greeks didn't invent? Stereotypes these days are frowned upon, it's un-pc, offensive and just not nice. However the fact remains that they are often funny.
As a Brit overseas I'm subject to plenty of stereotypes (whinging POME, idiot abroad, weather obsessed – not in a crazy American storm chaser way though and boozers who like to scrap at the football). It's still raining by the way, but it doesn't make me feel at home.
Europe like everywhere is full of 'solid impressions', take Italy, those who aren't in the mafia, spend all day driving around on scooters and drinking coffee. Not to mention the sockless loafers (footwear, not an insult directed at Italians). Then there is zee Germans; by the book, efficient engineers who love techno music and beer (and porn apparently- but I can't confirm this). Finally, Spain – loud, excitable, sleep a lot and eat small meals.
This is a perfect lead in to this week's recipe, chorizo empanadas. The name empanada comes from the Spanish verb empanar, which means to wrap in pastry.  Originating in Galicia (North West Spain) they're a fantastic snack that is essentially a lighter more excitable version of the Cornish pasty.
Empanadas can be baked or fried with a variety of fillings (tuna, pork, vegetables, chorizo, eggs). I wanted something less oily and with some spicy warmth on the tongue so have gone with baking and spicy chorizo filling.
Preparation time: 20 minutes
Cooing time: 30 minutes
Ingredients
2 good quality chorizo sausage –  diced
3 fresh tomatoes – roughly chopped
1 red onion – finely diced
1 can chickpeas
½ chilli – finely sliced
1 tsp. Paprika
1/2 tsp. cayenne pepper
1/2 tsp. Cinnamon
Salt
Pepper
1/2 tsp fresh thyme leaves
75g butter
400g flour
60ml sherry
1 egg – lightly beaten
Method 
To make the pastry, put the butter and flour in a blender and pulse for a few seconds until it resembles breadcrumbs.
Turn the mix out into a bowl and add the egg and sherry.
Mix the liquid in with a palette knife until it form small clusters.
Using your fingertips, bring the mix together in a ball. Don't over handle of knead otherwise your pastry will be tough as old boots.
Cover with glad wrap and pop in the fridge for no longer than 20 minutes.
For the filling, heat a good lug of olive oil in the pan. And cook the onion until soft.
Add the chorizo and cook for 5 minutes. Add the tomato, chilli, chickpeas paprika, cinnamon and oregano, cook for a further 10 minutes.
Preheat the oven to 190 degrees C
Roll out the pastry on a floured surface you wont want it much thicker than a fifty-cent piece (2mm).
Cut the pastry into 10cm circles using either a 10cm cookie cutter or a saucer as a template.
Put a spoonful of the empanada filling in the middle of each circle.
Brush the edges of the pastry with water, fold over then pinch the two sides together to seal.
Brush with a little beaten egg and pop on a baking tray lined with baking paper.
Bake for 30 mins until golden as the sun we haven't seen in Sydney for a week.
Whats the funniest stereotype you've heard?