For the Kids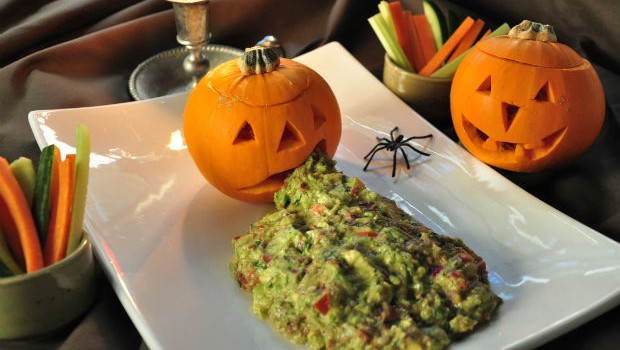 Published on October 27th, 2013 | by Gareth
5
Gruesome guacamole for Halloween
Some might find this post/recipe a little off putting (my friend, Minnesota Morgan, has already told me the idea was "gross").  But then isn't that half the point of novelty Halloween food? Gourmet it isn't, it's just a bit of fun for Halloween
I confess that this idea isn't mine; I 'd seen something similar on Pinterest (vomiting pumpkins that is) and thought it was hilarious. It was also a lot more appealing than the plastic skull dressed in processed ham with stuffed olives for eyes, which was just a little bit disturbing.
The vomit is a simple dairy free guacamole dip, served with Crudités (carrot, celery and cucumber sticks).
The pumpkin 'jack-o-lanterns' were pretty straightforward; I picked up a couple of baby pumpkins at my local supermarket, which were perfect for this dish. The downside of using small pumpkins, is there wasn't enough scooped out pumpkin flesh to make a pie.
Aside from being a bit of fun, it's another way to get the kids (big kids too) to eat something healthy instead of filling up on sweets (sorry, lollies for Australia/NZ/US).
Prep time: 15 minutes
Ingredients
1 pumpkin (small – medium)
3 ripe, medium size hass avocado's – skin and seed removed
2 ripe Roma tomatoes – finely diced
1 small white or red onion – finely diced
2 cups of coriander (cilantro) – chopped
Juice of 1 lime
2 tbsp. jalapeno or red chilli  (optional for the kids) – finely chopped
Pinch salt
1 tsp. plain olive oil
2 carrots
3 celery sticks
1 cucumber
Method
Scoop out the middle of the pumpkin and create a fearsome lantern
Cut the cucumber lengthways down the middle. Use a teaspoon to scoop out the seeds, (discard the seeds).  Cut into 2-3 inch sticks.
Peel the carrots and cut them and the celery into sticks of the same length. Set aside.
For the guacamole, grind half the onion and coriander using a pestle & mortar. Add the rest of the ingredients and mix using a fork.
Put the lantern on a large platter and arrange the guacamole in a suitable 'pavement pizza' arrangement. Put a little hanging out of the lantern's mouth for the best effect.
Next post, I think something meaty or seafood orientated is in order.