Desserts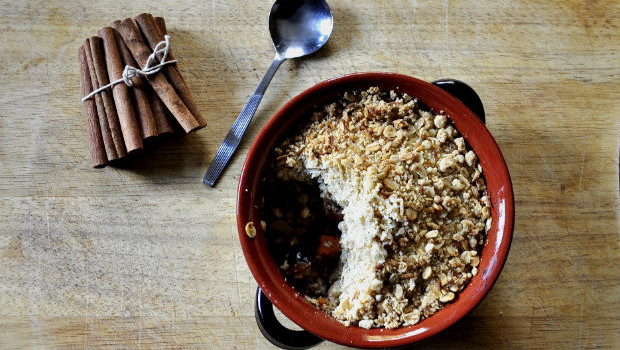 Published on March 31st, 2014 | by Gareth
2
Sweet potato, date and apple crumble
I recently came across my school prom photo (circa 1989), think an abundance of 'new romantics' Duran Duran style quiffs and pointy shoes and that was just the lads. The thing is, when I was in my teens, I wanted to blend in. I didn't want to be different or alternative. But, there I was in a white tux and red bow tie, when everyone else was wearing a black tux….or dressed like Michael Jackson.
I'm not sure quite how or why I ended up in a white tux, but these days I'm comfortable enough in my own skin to be different. This leads into an alternative dessert crumble recipe I'd like to share. Apple crumble was one of the first things I learned to make at school and it's still an old favourite. But sometimes it's nice to have a change.
After a little research, I took my lead from Britain's rationing recipes. During this period, Brits had to get creative because sugar was scarce, carrot and beets often featured in desserts.
I settled for the kumara, New Zealand's very own sweet potato, (originally cultivated by the Maori). It took a bit of trial and error to get the balance right, but I think this is ready to share, be interested in your thoughts.
Sweet potatoes might not seem an obvious choice, but it brings a rich, earthy sweetness that feels dry and wet at the same time (like mash potato). Sweet potato is also rich in beta carotene, which has a number of uses including helping prevent cancer, reduce blood pressure and fight depression.
Prep time: 10-40 minutes (depending on whether your roast the sweet potato)
Cooking time: 25-35 minutes
Equipment: Large mixing bowl, flan dish, chopping board, knife
Ingredients
Filling
3 1/2 large Granny Smiths apples – peeled and sliced
1 medium size kumara or sweet potato
1 cup of dates – chopped
3 cloves
2 tbsp. honey
3-4 tbsp. water
1 tsp. allspice
1 cinnamon stick
Crumble
80g Unsalted butter
100g Rolled oats
30g Plain flour
30g Shredded coconut
50g Raw sugar
20g Almonds or pistachio nuts (unsalted variety), roughly chopped
1 Tsp. Cinnamon (if you don't like cinnamon try powdered ginger or nutmeg)
Method
Preheat the oven to 180 degrees.
Mix all of the crumble ingredients by hand using your fingertips until you have a breadcrumb style consistency. Set aside in the fridge.
There are two ways of preparing the kumara, the quick way is to peel and chop into small cubes. The longer version is to bake the kumara in the oven, whole for 40 minutes at 180 degrees. I recommend baking if you have time, as it makes the kumara sweeter and prevents it drying out. At the end you just scoop the flesh out from the skin and add it to your crumble filling.
Layer the dates and apple on top of the kumara in a large ovenproof dish. Pour the water on top of the filling, sprinkle the allspice and cloves on top and pour the honey over the top. Nestle the cinnamon stick in the middle.
Distribute the crumble mix evenly on top of the filling.
Cook the crumble for 30-35 minutes, until golden.
Serve with crème fraiche, custard or cream.
Are you a leader or follower? And do you ever try unusual flavour combinations?