Desserts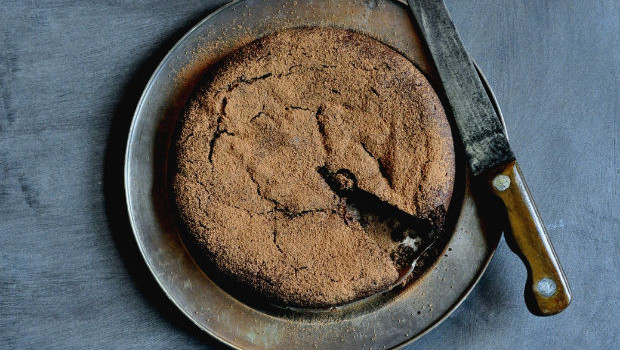 Published on August 24th, 2015 | by Gareth
0
Seriously good flourless chocolate cake
My post this week has came about as a result of someone in NZ, requesting a good recipe for flourless chocolate cake. So relieved that they didn't request a crap recipe.
It's been a while since I did anything gluten free and unusually, I didn't have anything planned for my post so the request was well timed. Despite having about 30 cookbooks, none of them had a flourless chocolate cake recipe. After some interweb research, I opted to wing it and come up with my own recipe. Generally speaking, baking and winging it aren't the best combination for me. This is because it tends result in me swearing profusely, followed by me eating a failed baking experiment, (hate wasting food you see, also serves as a good lesson).
Chegs in New Zealand, I can triumphantly say, this was not one of those occasions. It tasted really good, decadent, velvet gooeyness and not overly sweet. The dusting of cocoa also gave the cake a chocolate truffle quality. What's more, I was writing the measurements down as I went so I can accurately share the love.
Prep time: 15 minutes
Cooking time: 30-40 minutes
Equipment: 3 bowls plus 1 mixing bowl, electric whisk, 20cm cake tin
Ingredients
• 4 eggs – separated
• 30g cocoa powder
• 125g caster sugar
• 125g salt free butter
• 110g good quality dark chocolate
• 80g almond meal
• 1 ½ tbsp. strong black coffee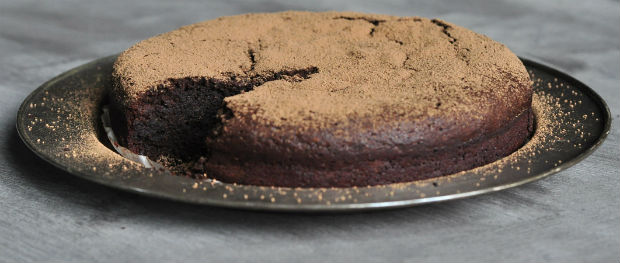 Directions
• Preheat the oven to 180C
• Grease the cake tin with butter and dust with a tablespoon of cocoa powder.
• Melt the butter and the chocolate in an ovenproof bowl. You can make a bain-marie by putting the bowl over a saucepan of boiling water, however I cheated and just put the bowl in the oven for a few minutes as it warmed up.
• Once melted, remove from the oven and gently stir in the coffee to the chocolate mixture. Set aside to cool for a few minutes.
• Separate the eggs then whisk the egg yolks into the sugar until thick and creamy.
• In a separate bowl, whisk the egg whites into stiff peaks.
• Next, sift the cocoa powder into the egg yolk mixture and stir in.
• Fold the melted chocolate into the egg yolk and cocoa mix, then the almond meal.
• Gently fold the egg whites into the chocolate mix. Ensure it is thoroughly mixed but without loosing the air.
• Pour the cake mix into the tin and bake for 30 minutes. Check the cake is ready with a skewer, if the skewer comes out of the cake with gooey cake mix still on it, bake for a further 10 minutes.
• When ready, remove from oven and cool for an hour before removing from the tin to a cooling rack.
• Serve with strawberries or raspberries and crème freshe.
I haven't tried it, but I reckon the addition of either a teaspoon of cinnamon, brandy, whisky or vanilla extract before baking would be worth a try.