Desserts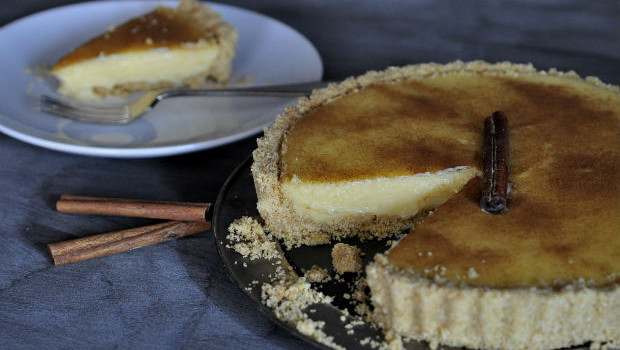 Published on July 23rd, 2014 | by Gareth
2
Melktert – South African custard tart
Flat hunting in Sydney is a curious experience, did I say curious? I meant crap. The property descriptions are seldom accurate, 'recently cleaned' translates into 'dirt was rearranged in the last month by the Muppets' plus it sucks the life out of your weekend.
Of course, moving house isn't all bad news, for a start change is good for neuroplasticity. You might even be lucky enough to have a neighbour who welcomes you to the area with cake or tart (the dessert kind). Failing that, perhaps friends will bring food. And as welcome treats go, you can't go far wrong with a Melktert (South African milk/custard tart).
This recipe features on my mate, big Ian's food blog, check it out, some good recipes on there. He swears by this melktert recipe and he should know being an authentic Saffer chap. I've made it twice now and have to say it runs my French custard tart pretty close. His Melktert recipe is much easier to make (I think it's a cheaty version) and it tastes fantastic. Have a go!
Prep time: 10 minutes
Cooking time: 10 minutes
Equipment: 20cm flan tin, saucepan, whisk, blender
Ingredients
Base
200g Arnotts Marie biscuits or McVities plain digestive biscuits – blended
125g unsalted butter
Custard filling
2 eggs – room temperature
1 tbsp. custard powder
1 tsp. Vanilla extract
3 tbsp. corn flour
1 tin condensed milk
2 cups milk (or two fills of the condensed milk tin after you empty it)
Powdered cinnamon
Cinnamon stick/quill
Method
Melt the butter in a saucepan and set aside.
Blend the biscuits (finer the better).
Mix the butter in with the biscuit crumbs. When thoroughly mixed, line the base (sides optional), with the biscuit mix. Press the mix down into the tin firmly and whack it in the fridge for 30 minutes to chill.
In a separate saucepan, mix the corn flour, custard powder and a few tablespoons of milk until you have a paste.
Put over a low hear and add the condensed milk, milk, vanilla extract, eggs and cinnamon stick.
Gently heat and lightly whisk to prevent lumps forming on the bottom.
Continue to whisk over a low to medium heat until the custard begins to thicken to same consistency as thick cream or yogurt. If you are serving to pregnant women, you'll need to bring the custard up to 75-80 degrees C. Don't go over that otherwise it will separate.
Remove the cinnamon stick and allow to cool for a few minutes.
Pour the custard into the biscuit base and chill for 1-6 hours.
And there you have Melktert. Tastes even better on day two, if there's any left.
What would you take to welcome friends into a new place?