Desserts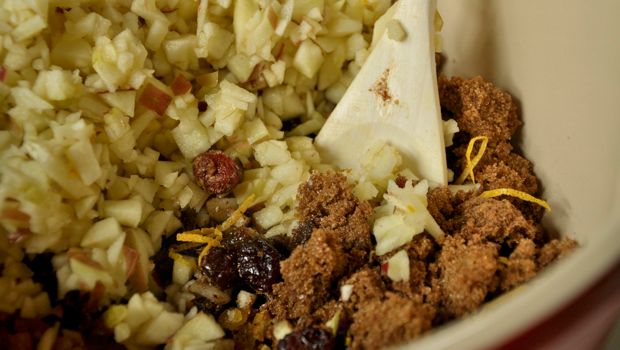 Published on December 23rd, 2012 | by Gareth
2
Fruit mincemeat
Before I go further, excuse the lack of image above, temporary problems with my blog theme or WordPress

I don't know anyone who is making their own mince pies (fruit mince) for Christmas this year. Perhaps it's an English thing to actually make mince pies at Christmas. Perhaps with so much going on people just want the convenience and with such a great range of options at the supermarket and bakers why not save time?
I decided to go one step further than baking my own mince pies and made my own fruit mincemeat filling.  Admittedly to go this far is something of a luxury afforded by those with spare time…..or just a food curious pome in search of a bit of tradition from the old country.
The fruit mincemeat not only serves the Christmas mince pie well but also makes a fantastic addition to vanilla ice cream. Odd though it sounds, it's also pretty good with grated apple in a toasted sandwich add a slice of mature cheddar and you have something quite different.  Plus it fills the house with the smell of Christmas spice.
Ingredients
150g butter or suet
150g soft brown sugar ideally demara
Zest and juice of one orange
Zest and juice of one lemon
100g dried cranberries
100g dried/candied orange peel
100g dried figs – roughly chopped
100g raisins
100g sultanas
1 -2 large Granny Smith's apple, peeled, cored and chopped
2 tsp. mixed spice
1 stick of cinnamon
3 tbsp. brandy
1 tbsp. sherry
Method
Mix all of the ingredients (except the brandy) together in a bowl. Cover and pop in the fridge overnight (our in the garage if you live in Britain).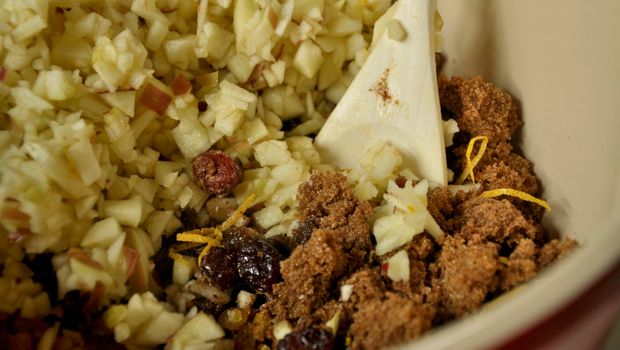 Transfer the mix to an ovenproof bowl, cover with foil and cook in a preheated oven (120 degrees C) for 3 hours.
Remove from the oven, allow to cool and stir in the brandy.
Spoon into sterilized jars. The fruit mincemeat will last about 12 months in a cool dark cupboard.