Desserts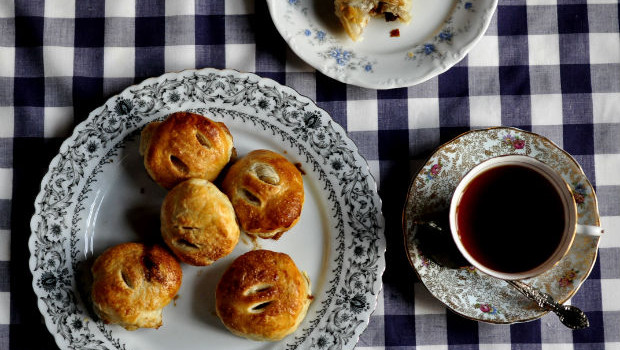 Published on June 4th, 2014 | by Gareth
2
English Eccles cakes
My Eccles cake recipe is inspired by afternoon tea, my Grandfather and toasted sandwiches.
I missed the Cancer Council's Biggest Morning Tea, stuck in meetings instead of getting stuck into cake, urrrggh! No sausage rolls, no pies, biscuits or cakes for me that day.
To be honest, the quintessentially British tradition of afternoon tea has more appeal. It's probably because I often eat dinner late so afternoon tea is a welcome treat to keep me going. The tea and ceremony are nice, but you can keep the fine china and dainty sandwiches, they wouldn't feed a fasting sparrow.
Eccles cakes originated near Manchester, England and were a favourite of my Grandfather's. Traditionally they use spiced raisins and brown sugar but I've incorporated apple as well.  As children we used to have toasted sandwiches filled with apple, raisins and spice and the combination was great.
Prep time: 10 minutes.
Cooking time: 15 -20 minutes.
Equipment: Rolling pin, bowl, cooling rack, oven, hungry friends – because these don't keep very well.
Ingredients – makes approximately 12
1 pack of ready made puff pastry
55g unsalted butter
50g raisins
40g peeled, diced Granny Smiths apple
55g soft brown sugar
½ tsp all spice
½ tsp cinnamon
1 egg – lightly beaten
Caster sugar
Method
Roll the pastry out to the thickness of an Aussie 50 cent piece or 50 pence piece.
Cut into rounds with a 10cm cookie cutter.
Mix the raisins, spice, sugar and butter in a bowl until creamy.
Add a teaspoon of the mixture to each pastry round.
Bring the edges together; you may need a little water or egg to brush on one side of the pastry so it sticks when you pinch it together.
Turn the cake over and lightly roll with a rolling pin, then shape into a circle again.
Rest the eccles cakes in the fridge for 20 minutes.
Score the top with a sharp knife and brush the top with egg and sprinkle with a little caster sugar.
Bake for 15-20 minutes at 200 degrees Celsius, until golden brown.
Serve hot fresh from the oven, you wont be disappointed.