Chicken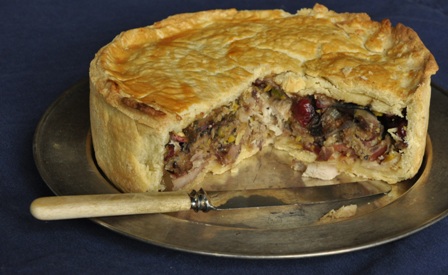 Published on December 28th, 2010 | by Gareth
1
Turkey and bacon pie
This is my favourite use of the Christmas leftovers.  It's easy plus versatile in that you can use any left over meat or veges. Who can resist the smell and visual appeal of a freshly baked pie?  The comforting smell of pastry as it comes out the oven, the anticipation as the knife crunches through the crust releasing a waft of enticingly scented steam.  It's the morning in Sydney town and recollections of the pie made last night have me considering whether I can have a slice with my morning cuppa.
Back to sharing the recipe for deep filled turkey and bacon pie, as I don't have deep pie dish I used a cake tin lined with baking paper.
Ingredients
20g pistachio nuts.
50g dried cranberries.
2 tsp fresh finely chopped sage.
150g of stuffing, if there is none left use a little extra ham or turkey.
350g turkey.
A few rashers of cooked bacon, I used the stuff that I put on the top of the turkey.
1 ½ onions, sliced.
1-2 cups gravy.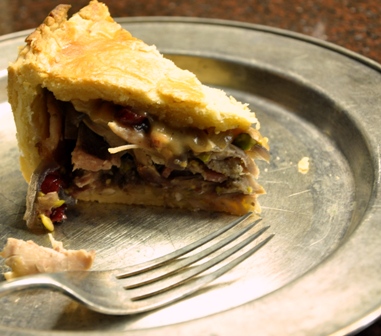 tempting isn't it?
Method
Prep time: 40 minutes
Cooking time: 30-40 minutes
Put the onions in a heated pan with a little oil. Cook over a low heat for 15 minutes.
Preheat the oven to 200 degrees.
Whilst the onions are cooking, make the pastry. I made my own pastry but you don't have too, that said it is pretty easy. I covered it in an earlier post on pasties.
Mix the cranberries, pistachio nuts, sage and some seasoning into a bowl and set aside.
Add the leftover roast turkey, bacon and stuffing if you have it. Set aside.
There are a few options with the sauce, if you have any gravy from the 'big' feast use that. Alternatively melt a knob of butter in the pan, add a couple of tablespoons of flour and stir into a paste.
Add 200ml of stock to the paste and keep stirring.
Add a splash of sherry to the mix and you are done. You can also add a teaspoon of Bovril for colour.
Over a low heat allow the sauce to reduce.
Whilst the sauce is reducing grease a 10cm diameter cake tin. I used one that allowed the bottom to pop out, much easier at the end. Cut a disc of baking paper for the bottom of the tin and line the sides with baking paper.
Roll the chilled pastry out to about 1cm thick.
Cut two circles. One the diameter of the top of the tin, this will be the pie lid. The other needs to be large enough to line the entire tin with one piece.
Push the pastry into the sides of the tin so you have spare pastry at the top.
Repair any holes or splits with scraps of pastry. This will prevent your filling leaking out.
Cover and chill in the frudge for 20 minutes, it will stop the pie going soggy.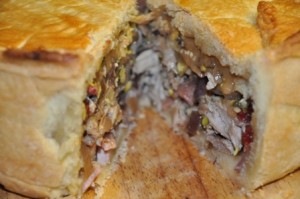 Put the stuffing in first, then the bacon/ham and turkey cranberry mix. Then the onions
Top with the sauce/gravy.
Brush the edges of the pie lid with egg or water then put the lid on (egged side down).
Trip any excess off and brush the top with egg. This will give it a beautiful golden brown colour like seasoned varnished pine wood.
Reduce the oven to 180 degrees and pop the pie in.
Bake for 30-40 minutes or until it is golden brown and hot all the way through.
Serve with salad, veges or on its own cold