Seafood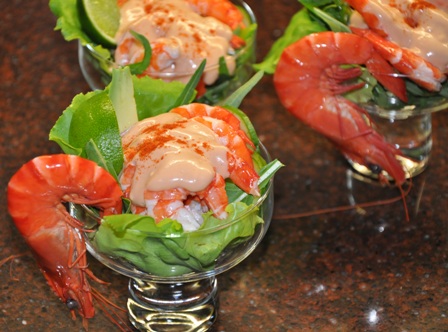 Published on January 9th, 2011 | by Gareth
10
Prawn cocktail
There were lots of great things that emerged during the 1970's; David Bowie, Mork & Mindy,  Boney M,  Abba,  choppers,  roller skates,  me….  however my all time favourite, like so many things is making a come back, the much maligned prawn cocktail.
I whipped up a couple of these beauties for our Christmas dinner entrée.  I had a hard audience to get across the line, including a Kiwi who doesn't like seafood and had never tried prawns and someone else whose experience of prawns was shelled, cooked, frozen in the bag 'mini' prawns.
For the sake of convenience I didn't make my own mayonnaise (largely because the turkey and trimmings was keeping me busy enough), shameful but every so often I let myself cheat a little. That said mayo is easy enough to make and does make a difference (I will post a mayo recipe shortly). The end result was that all were sold on the prawn cocktail despite earlier reservations.
The handy thing about it is you can make the sauce in advance; it keeps in the fridge for a day or two.
Preparation time 30 mins (includes shelling the prawns)
 Ingredients (serves 4)
30-40 tiger prawns (the ones I chose were pre cooked and just needed shelling)
½ cup light mayonnaise
½ cup good quality tomato ketchup
Juice of half lemon
1 tsp Dijon mustard
1-2 tsp Worcestershire sauce
Pinch of chilli powder, (Tabasco sauce also works well)
1 tsp brandy
12 small Ruby lettuce leaves (Cos lettuce is great alternative)
Handful of rocket leaves
½ Avocado, sliced
Lime wedges
Paprika
Method
Mix the mayonnaise, tomato ketchup, brandy, lemon juice, chilli powder, Dijon mustard and Worcestershire sauce in a bowl until smooth and salmon in colour. Set aside and chill for 30 minutes.
Shell and de vein the prawns leave a few whole to garnish.
Arrange 3-4 salad leaves in bowl.
Divide the prawns equally and arrange on the salad leaves along with the one or two slices of avocado.
Pour several spoonfuls of the sauce over the prawns.
Garnish with a lime wedge and a pinch of paprika.