Desserts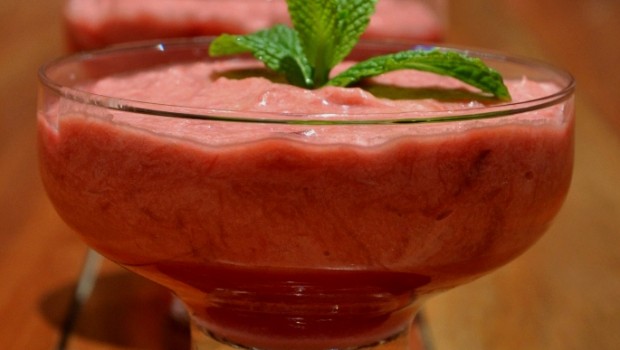 Published on May 23rd, 2011 | by Gareth
5
Rhubarb mousse and ginger beer jelly
This weekend I spent a lot of time thinking about flavours that compliment each other. Classic European and Anglo favourites that sprang to mind were apple and pork, mint and lamb, chicken and tarragon, bacon and eggs, feta and olives. The list could go on but I would only be tormenting the hungry reader.  Who came up with these great pairings and when? Were they by products of what was plentiful and in season?
An English autumn classic combination is rhubarb (usually in a crumble) and custard. Rhubarb is a fantastically versatile ornamental vegetable that originated in Asia a couple of thousand years ago. On it's own it is a sharp and bitter but add a little sugar and cooking and the taste is transformed into something very unique.   I wanted to use these great flavours and the vibrant colour of rhubarb to make something a little more contemporary. Something that paid tribute to the original but also incorporated a little bit of Australia and Asia too.  A walk in Harris Farms in Broadway provided me with the answer. Ginger more specifically Bundaberg ginger beer, it was perfect as ginger and rhubarb are another classic. I remembered seeing a recipe for champagne jelly a while back which sounded like fun but not the best use of champagne.
Not wanting to drop my original pairing of rhubarb and custard I opted for a threesome…Of flavours! To bring it all together I decided on a layered approach a bit like a trifle. Ginger beer and rhubarb jelly, with rhubarb mousse (not the large antlered beast of Canada kind though), topped with vanilla cream.  And here it is: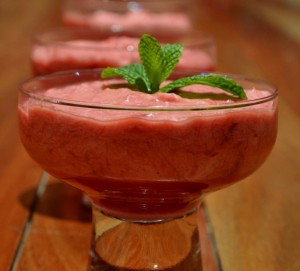 Preparation time: 40 minutes
Cooking and chilling time: 2  1/2 hours
Ingredients
500g rhubarb
60g caster sugar
300ml ginger beer
1 tblsp edible gelatine powder (or 2 leaves)
1 egg white
1/2 vanilla pod
150ml whipping cream
Mint sprig to garnish
Method
Ginger beer jelly
Remove the rhubarb leaves, they taste like rubbish and are poisonous. Wash the stems and cut into small pieces.
Put the rhubarb into a saucepan with the sugar and a tablespoon of water, cover and put over a low heat.
Heat slowly for 30 minutes until the rhubarb has completely reduced to a soft pulp and the fibrous strands have broken down.
Strain the pulp in a sieve over a bowl to collect all of the liquid. Dont push it through, as you want a nice red transparent liquid. Set the pulp aside.
In a clean saucepan heat the rhubarb juice and the ginger beer so that it is warm.
Stir in the gelatine until dissolved. Remove from heat and allow to cool for a few minutes.
 Half fill your serving bowls with the ginger beer liquid jelly. Put into the fridge to set.
Rhubarb mousse
Once the pulp has completely cooled (will take about an hour to cool) transfer to a bowl.
Mash the pulp to a smooth paste using the back of a plastic spatula. If it is too sharp in flavour add a teaspoon of icing sugar at this stage. Mix thoroughly and set aside.
Whisk the egg white (in a stainless steel bowl is best) into fluffy white stiff peaks as if you were making a meringue.
In a third bowl whisk the cream until thick.
Fold the rhubarb pulp, egg white and 2/3s of the cream together until evenly mixed.
By now the jelly should have set, remove from fridge.
Spoon the rhubarb mousse into the individual bowls on top of the jelly until full.
Put back into the fridge to set for 1-2 hours.
Vanilla cream
Split half a vanilla pod and scrape out the sticky black seeds with a knife or teaspoon.
Mix the vanilla seeds with the remaining cream, cover and refrigerate.
Serve the individual rhubarb mousse with a dollop of the vanilla cream and a sprig of mint for decoration.
What are your favourite flavour combinations and ever wondered about all the failed concoctions that were on the evolutionary path to food pairing success?