Desserts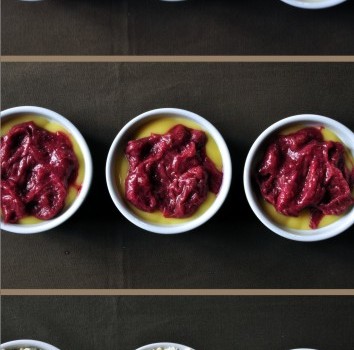 Published on August 19th, 2012 | by Gareth
0
Self saucing mini fruit crumbles
The American Sycamore tree outside the lounge window is beginning to bud, which signifies Spring is close by and it is time for Winter to ebb away. Cliche though it sounds the first half of 2012 has gone by in a flash, I think that this must be something to do with getting older, (I recently celebrated my 39th birthday). When I was a wee 'nipper' the summers seemed to last forever. We would play until late each day of the summer holidays, making sure that we squeezed the last minute of sunlight out of the day in order to meet a hectic schedule of making dens, having water fights and hiding from the adults.
Now that I am an adult myself (albeit in name only) I am more aware than ever that time is one of the most important intangible commodities of the 21st century. Everyone that I know is 'double busy', so much to do, so little time to fit it all in. We are all looking for ways to cram more into our lives and slow the ever quickening pace of father time down (right now I feel like father time has changed from the nonchalant amble he had when I was a kid to an all out olympic sprint).
One of the major casualties of busy lives is that we often forego taking time to enjoy our meals properly. I myself am guilty of eating lunch in front of my computer at work or 'lapping' dinner so I can watch a program. Whilst this does mean I can fit more into my life I loose the social opportunity of taking time out to dine with friends and family at a table, not to mention be aware of the flavours and textures of the food. This is something that the Europeans, particularly the French, Spanish and Italians, tend not to compromise on. Food is still part of their daily ritual to be savoured where the clocks are stopped, the meter is switched off and the focus is food and face to face communication. The benefits of this are two fold; firstly by slowing down your levels of stress reduce. Secondly it means there is time for dessert, this is in essence what it all boils down to, dessert, pudding, afters, sweet call it what you will it is good but frantic foregoes dessert!
I haven't yet managed to discover the formula for bottling time but these self saucing apple crumbles are a super quick, no mess dessert that will help you strike a balance with father time. They are easy, don't create much washing up and are quick to make (40 minutes kitchen bench to table and that includes cooking time).
Preparation time: 10 minutes
Cooking time: 20-30 minutes
Ingredients
Crumble
60g Unsalted butter.
25g Rolled oats.
50g Plain flour.
25g Shredded coconut.
30g Caster sugar.
20g Soft brown sugar.
1 Tsp Cinnamon.
Filling
1 Granny smith's apple, peeled, cored and thinly sliced.
1-2 cups of cooked rhubarb.
1-2 cups of custard (I used pre-maid custard which is a bit of a sin but you need the custard to be thick).
Method
Preheat the oven to 180 degrees
Mix the crumble ingredients in a bowl with your fingers until it has a bread crumb consistency. Use a food processor to save time.
Layer the filling in ramekins, starting with apple as per the stages below.
Top with crumble.
Put in the oven until the edges begin to bumble and the crumble browns to a deep golden colour.
Remove from oven, serve and eat.

As not all ramekins are created equal you may need to adjust the measurements. This also works beautifully with strawberries and plums.
So do you have any tips for giving you more time to enjoy mealtimes with loved ones?