Desserts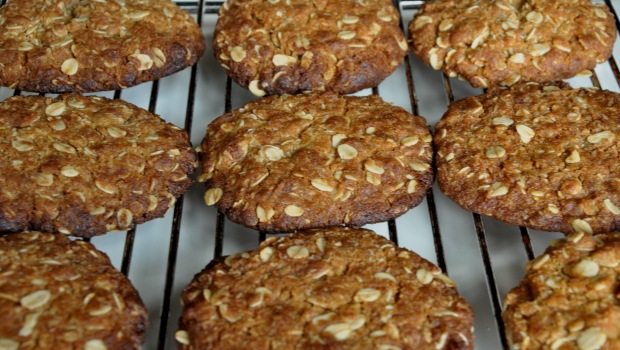 Published on April 24th, 2011 | by Gareth
3
ANZAC Biscuits
Today I would like to share something that is enjoyed all over Australia and New Zealand at this time of year.
In Britain and Europe we have Remembrance Sunday in November to honour the fallen during and since the First World War. In Australia and New Zealand they have Anzac Day on the 25th April, arguably the joint nations single most important national day. This was the day that in 1915 men of the Australian and New Zealand Army Corps began a campaign to capture the Gallipoli peninsular in Turkey. The campaign lasted 8 bitter months and during this time, soldier's families back home in Australia and NZ sent biscuits by sea to help the men endure the hardships of life in the trenches.
These have commonly become known as ANZAC biscuits. Originally made with a few simple ingredients, today they are a little richer than the first batches that were shipped to the troops. So to commemorate ANZAC day I would like to share Nina's grandmother's recipe for ANZAC biscuits.  The original recipe calls for plain sugar but I prefer soft brown, it gives it a slightly chewy feel. Perfect with a glass of milk on and autumn afternoon. I reckon they would even go with a game of two up and a few schooners.
Ingredients
150g of butter, melted
1 cup of plain flour
1 cup of soft brown sugar.
1 Tbsp of golden syrup, honey also works well
1 cup of rolled oats
1 cup of desiccated coconut
1 tsp of baking soda
1/4 tsp of salt
3 tblsp water
Method
Heat the oven to 180 degrees Line a baking tray with baking paper. Set aside.
Melt the butter in a saucepan over a medium heat. Add the golden syrup and baking soda to the butter and stir well. You should have a rich golden mixture that is quite frothy. Remove from heat and set aside.
In a large mixing bowl, combine the flour, oats, sugar, desiccated coconut and salt.
Add the water and mix thoroughly by hand.
Add the melted butter to the dry ingredients and stir with a wooden spoon to combine ingredients.
Roll about 1 1/2 tablespoons of biscuit mix into small balls and flatten between the palms of your hands. Place the biscuits on baking tray about 4 cm apart (they will expand during baking).
Bake the biscuits for about 10-12 minutes or until golden brown. Remove the biscuits from the oven and let them sit on the baking tray for 5 minutes.
Remove the biscuits from the tray and cool on a wire rack.
Once cooled, transfer to an airtight container to prevent them from going soft.