Chicken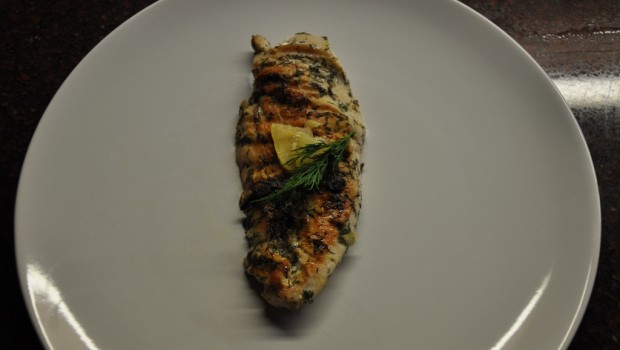 Published on November 7th, 2010 | by Gareth
0
Dill and Preserved Lemon Chicken
Have you ever bought ingredients without giving much thought as to what you are going do with them? Well I have.  Perhaps I am subconsciously setting myself a mini mystery basket or invention test, just without the drama and action of Master Chef or Ready Steady Cook.  The absence of such drama and pressure is probably a good thing as my kitchen really isn't big enough to accommodate TV cameras and Ainsley Harriet or George Calombaris. It would end up a health and safety nightmare with all the wires and ego's.
Back to the food, on a recent shopping trip I bought a huge bunch or dill which I realise isn't very adventurous but there are so many great recipes that you can use dill for. I settled on a simple marinade for chicken. This was a perfect opportunity to use some of my preserved lemons AND the purple Mexican garlic I bought on the same shopping spree.
 Ingredients
2 large (free range) chicken breasts
1 clove of freshly crushed garlic
½ cup finely chopped fresh dill
4 tablespoons virgin olive oil
 Method
Finely chop the preserved lemon.
Mix the dill, preserved lemon, garlic and olive oil in a bowl.
Make 3-4 cuts across the width of the chicken breast, about 1-2cm deep.
Rub the marinade into the chicken make sure you get plenty of the mixture in the cuts.
Cover and pop into the fridge for 30-40 minutes.
When ready to cook heat a griddle pan and lightly oil, (make sure the pan is hot before you add the oil to avoid smoking).
Place the chicken in the pan and reduce the heat.  After 5 minutes turn the chicken over, continue to turn every 5 minutes to avoid burning. After about 25-30 minutes the chicken should be cooked. Check by inserting the skewer into the thickest part of the chicken, if the juice runs clear it's ready. If there is blood present give it another 5-10 minutes.
Serve with thin slices of preserved lemon and dill to garnish with seasonal vegetables or salad.
The end result was excellent the subtle sweet flavour of dill complimented the sharp saltiness of the lemon and a little heat from the garlic. A quick and easy meal. Do it!