Chicken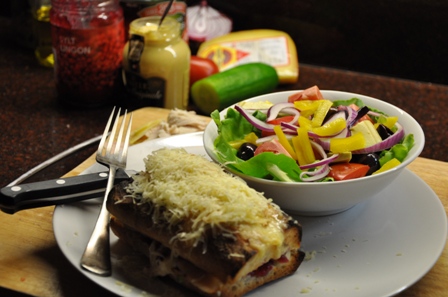 Published on December 26th, 2010 | by Gareth
1
Christmas turkey croque-monsieur
I thought that I would work backwards with our Christmas feasting. I figured that sharing ideas on how to plough through the leftovers would be more useful sooner rather than later. Time permitting I can share the Christmas dinner notes later this week.
I borrowed and adapted the idea of Christmas croque-monsieur (posh grilled cheese sandwich) from French chef Bruno Loubet. It works well with goose, turkey, ham or chicken left over's and will only take about 10-15 minutes to prepare.
Ingredients (per person)
10-15cms of baguette/French stick
8 slices of turkey
lingon berry sauce, cranberry sauce or redcurrant jelly (savoury kind)
12-15 dried cranberries
4 slices of brie or handful of grated Emmental or Edam cheese
50-100gms cubed feta/cheddar/brie/stilton basically whatever cheese is left over
10g butter
10g plain flour
150ml milk
1 tsp Dijon mustard
Method
Slice bread down the middle lengthways.
Spread the cranberry or lingon berry sauce on both slices.
Melt the butter in a saucepan but don't let it burn, reduce the heat.
Add the flour and stir constantly until you have a smooth paste.
Add the milk and whisk constantly to avoid lumps or burning.
Add the cubed cheese and Dijon mustard to the white sauce.
Sprinkle the cranberries on the bottom slice or the bread.
Whisk the sauce until think and smooth.
Add the sliced turkey to the bottom slice of bread (on top of the cranberries).
Pour the sauce over the turkey.
Put the top slice on and lay the sliced cheese to the top.
Place under a hot grill or in a hot oven until the cheese melts and turns golden.
Substitute the turkey for ham and add a second teaspoon of Dijon to the sauce. Works with prawns too, just ditch the cheese sauce in favour of a cocktail sauce.