Vegetarian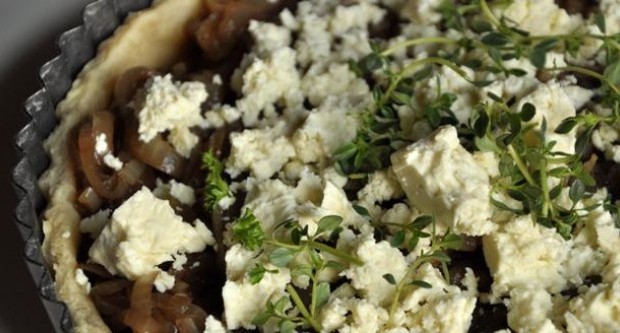 Published on September 19th, 2011 | by Gareth
4
Caramelised onion tart
There are few vegetables that form the basic foundation of so many dishes and stocks across such a range of cuisine styles as the innocent onion. It seldom enjoys the limelight but brown, white and red onions form the base flavour in British, European and Australian cuisine.  If the understated onion was playing in the rugby world cup it wouldn't be a glamorous All Blacks winger or an Irish drop goal ace. The onion would be a Georgian prop forward – in the engine room doing the hard work and making you cry.
I thought it was time that the onion was the hero of the dish, so when I undertook my vege challenge recently I made a caramelised onion tart from an Annabel Langbein recipe. It's simple, exceptionally delicious and great hot or cold. Plus unlike quiche no one will think its 'girly'.
Ingredients
6 onions, peeled and finely sliced
1 ½ cups of water
1/4 cup brown sugar
1/3 cup balsamic vinegar
2 tsp olive oil
1 tsp salt
200g goats cheese or feta
3 tsp fresh thyme
Pastry
Method
Put all the ingredients (except the pastry) in a large heavy based saucepan over a medium heat.
When the sugar has dissolved, reduce the heat and simmer for 1 hour.
Roll the pastry out into a circle big enough to line a medium flan dish (I used a 22cm dish)
Preheat the oven to 200 degrees.
Make sure that you grease the dish first even if its non stick.
Cover and chill the pastry (in the flan dish) in the fridge for 20 minutes.
Remove the pastry lined flan dish from the fridge and blind bake for 10 minutes. Then allow to cool for 10 minutes before adding the caramelised onion, ensuring that the pastry flan sides are higher than the filling.
Crumble the feta on top of the onion and sprinkle on 2 tsps on the fresh thyme.
Bake for 10 minutes at 200 degrees then reduce the heat and bake for a further 25-30 minutes.
Serve hot or cold (hot is best). Goes nicely with a rocket salad and a NZ pinot noir.