Soup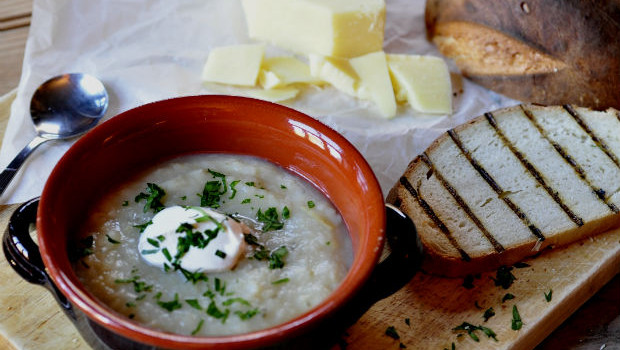 Published on July 6th, 2014 | by Gareth
2
Leek and potato soup
This week has been personally challenging and also 'nuts busy'. I had to make daily, prioritised To Do lists just to avoid starring blankly at my computer screen like a stunned mullet.
When there is so much going on, it's easy to skip making time for myself.  Perhaps, that's because I end up feeling guilty if I do literally nothing (other than watch documentaries).  That's one of the reasons I like to cook and blog, productive but relaxing at the same time.
Amazingly it's still winter in Sydney, so I knocked up some potato and leek soup plus a sourdough loaf  (using a sourdough starter). I took real pleasure from the simplicity of this hearty, wholesome dish (the creating and eating). I'll share the sourdough recipe in a later post, but here's my recipe for potato and leek soup.
Prep time: 10 minutes
Cooking time: 30 minutes
Equipment: Large heavy based stockpot, blender, chopping board and knife
Ingredients 
3 leeks – washed, white part roughly chopped) keep the green part to make stock
1 ½ brown onions – peeled and diced
2 sticks of celery
3 potatoes – peeled and diced
1 litre of chicken or vegetable stock
Salt & pepper
¼ tsp. freshly grated nutmeg – optional
1 Bay leaf
2 cloves garlic – peeled and chopped
½ tsp. fresh parsley – washed and finely chopped
3 tbsp. olive oil
Sour cream or single cream
Method 
Heat the olive oil in the stockpot.
Over a low heat cook the onions until they begin to caramelise (soft and opaque with a little colour). Add the garlic and cook for 2 minutes.
Add the bay leaf, celery and leeks and cook for 5 minutes, then add the stock and nutmeg then increase to a medium heat, cook for a further 5 minutes.
Add the potatoes and bring to the boil, then reduce to a simmer until the potatoes are soft (about 5-10 minutes).
Season to taste
Garnish with fresh chopped parsley and the cream. Serve hot with cheese and bread.
How do you distress after a 'nuts busy' week? And do you call it leek and potato soup or potato and leek?