Soup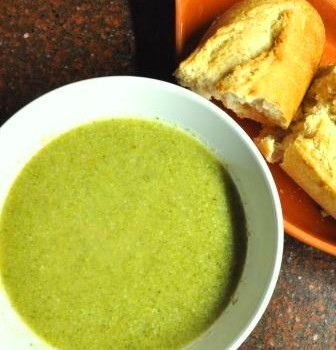 Published on June 23rd, 2010 | by Gareth
3
Broccoli Soup
Hot soup is a must for a cold winter's day. This is a slightly amended broccoli soup recipe from Curtis Stone.  It is packed full of vitamins to keep colds away, plus its cheap and easy. We like simple food. What's more it is very tasty, even my wife who isn't much of a broccoli fan, (or any other vegetable that's not chocolate flavoured I suspect) asked for seconds.
Prep time: 15 minutes
Cooking time: 10 minutes
Ingredients
3 good sized heads of broccoli, chopped into small florets
1 Litre chicken stock, (homemade is the best but most supermarkets stock, get it? a decent range of real stock and consommé's)
Pinch of ground nutmeg
1 Tblsp olive oil
½ Red onion, thinly sliced
2 cloves garlic finely chopped
140g thick Greek yoghurt
1 Lemon, zested
Salt and pepper to taste
Heat the stock in a pan to boiling point and then reduce and simmer. Now heat the oil in a separate pan and fry the onion and garlic for about 2 minutes. Keep stirring as you only want to soften them not caramelise (though that could be quite nice).  Add the broccoli to the onions, but keep about 100g of the broccoli aside for later. Keep stirring, after about 30 seconds the broccoli will change to an intense green.
Add the stock and bring the mixture to a boil, then simmer for 5 minutes until the broccoli is soft. Don't overdo it otherwise you will begin to loose that lovely bright green colour.
Multi tasking time. Whilst the broccoli simmers, mix the yoghurt with the lemon zest and refrigerate.  Although I did not manage this I think that this would work if the yoghurt was semi frozen like a gelato. One for next time perhaps.
Remove the broccoli from the heat and set aside for a moment. Take the uncooked florets that you set aside earlier and blanch them for 30 seconds (boil in a saucepan of water for 30-40 seconds then plunge them into iced water draining in between and after). Set aside as this will be your soup garnish.
Right back to the main pan of stock, broccoli and onion! Put the mixture into blender and puree.  Do this in 2 to 3 batches otherwise it will spurt out the top, which is what happened to me.
Ladle into bowls, add a dollop of your lemon yoghurt, a sprinkle of nutmeg, salt, pepper and a few of the blanched florets to garnish. Alternatively the nutmeg can be added when you puree. Either way I recommend it as it really lifts all ofthe flavours.
Unfortunately the last stage wasn't captured in the photo as my diners were a little too eager to taste.