Seafood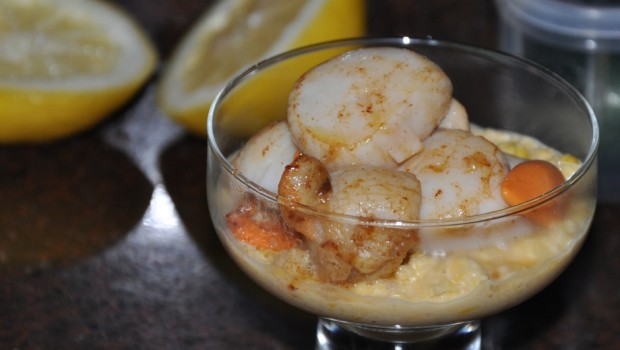 Published on October 7th, 2010 | by Gareth
0
Seared scallops on creamed corn
I love fresh scallops and with such a sweet and delicate flavour I think they truly deserve a minimalist approach for cooking and presentation. I pawed over various options but settled on a simplified version of a recipe from Wellington's (NZ) answer to Rick Stein, the affable Al Brown. A legend in his own right and a real no fuss, no pretence, hands on chef. The original recipe incorporated wine instead of cider vinegar and a salsa but I wanted the scallop to be the true hero of the dish, which is a great little starter of light lunch time meal.
18 Fresh scallops and roe
½ Clove of garlic
25g butter
1/3 Cup fresh cream
¼ Cup red onion
Splash cider vinegar
1 Tin sweet corn
Salt and pepper
Heat the butter in a pan over a low heat and slowly cook the onion so it is sweet, sticky and dark caramel in colour. They should have an almost paste like consistency, no stringy slices in site. Next add the cream and heat for a few minutes. Add the sweet corn, vinegar and seasoning, cook for a further 5 minutes, still on a low heat. Transfer to a blender and blend on pulse until creamy. I like to leave some chunks to give it a bit of texture. Spoon the corn into individual bowls.
Next add a knob of butter and a table spoon on olive oil to a heated frying pan. Add the garlic and once the butter begins to bubble and turn in colour add the scallops. The trick is to sear them for no more than 30 seconds each side. This will be sufficient to give them some colour and cook them without loosing the subtle flavour. Serve the scallops on the bed of creamed corn and tuck in before they get cold.
Want to give the dish a little extra lift?  Try a little preser