Red Meat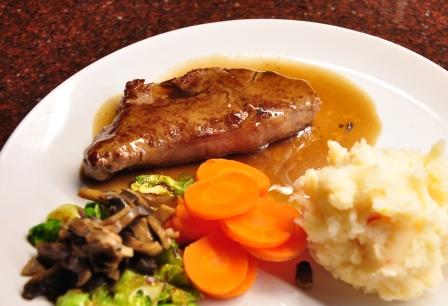 Published on July 15th, 2010 | by Gareth
2
Porterhouse steak with saffron mash and sherry mushroom sauce
A blokey staple or not, I find steak and vegetables a pretty boring and unimaginative meal. So I thought that I would try and give it a bit more appeal without going down the slightly predictable steak béarnaise with 'chips' route. After a flick through of a few recipes for ideas and a couple of false starts I arrived at pan fried porterhouse steak with a sherry and mushroom sauce served with saffron mash and sauté sprouts.
For me it's still a work in progress and compared to some of my other recipes it's a bit fiddly, but I thought that I would share as it tasted pretty damn good.
Preparation time 30 minutes
Cooking time 30 minutes
Ingredients
2 x 150g Porterhouse steaks
10 medium sized fresh sprouts
Sherry and mushroom sauce
150ml Beef stock
150ml Sherry (dry)
1 tblsp Balsamic vinegar
1 large field mushroom, diced
1 Clove garlic, crushed and chopped
2 sprigs of fresh rosemary or thyme
 2 x 150g Porterhouse steaks
 10 large sprouts
Saffron mash
200ml milk
8 good sized floury potatoes (e.g. royal blue or king Edwards)
½ Clove garlic
½ tsp saffron
25gm butter
First things first, take the steak out of the fridge, lightly season with salt and pepper, cover and set aside. Not too much salt though as this tends to dry your steak out. Allowing the meat to reach room temperature prevents you serving a steak that is cold in the middle.
Sherry mushroom sauce
Cook the mushrooms and garlic in a pan for 2-3 minutes with a teaspoon of olive oil. Add the sherry and rosemary/thyme (I tied the herbs up in muslin to prevent the needles getting into the sauce though this is not essential). Reduce for 3 minutes add the balsamic vinegar then the stock. Bring to the boil and simmer for 3 minutes. Strain the sauce and set the mushrooms aside. Put the strained sauce back into the pan and gently simmer. If the sauce has not thickened mix 1 tsp of arrowroot powder with 1 tsp of stock and stir into your sauce.
Saffron Mash
Boil a pan of water with 2tsp of salt. Whilst the water is coming to the boil peel and dice the potatoes.  Add the potatoes to the water and boil them until soft but not disintegrating. You don't want potato soup, well not on this occasion.
Heat the milk until it is warm and steaming but not boiling and do not let it form a skin. Remove from the heat and add the butter, garlic and saffron. Allow to infuse in the milk for 10 minutes. The milk will turn a yellow/orange colour.
Once the potatoes are boiled, drain them and mash adding the infused milk gradually as you go. I am lucky enough to have been given a potato ricer which makes a huge difference to getting super fine creamy mash potato. Once mashed cover and set aside in a warm (100 degrees) oven.
For the steak get your frying or sauté pan nice and hot add a little olive oil and pan fry the steak for about 2 minutes per side (for a rare steak), longer for better done. Only turn the steak over once. A rare steak will be soft to touch where as a medium rare steak will be soft but springy and well done will be firm to touch. Once cooked allow to rest for a few minutes.
Last of all peel the leaves from your sprouts and add to a hot pan with 10 grams of melted butter and 1 tsp of olive oil. Sauté for 30 seconds to a minute on a medium heat.
Serve the steak on a bed of the mushrooms used for the sauce, your mash and the sauté sprouts.