Red Meat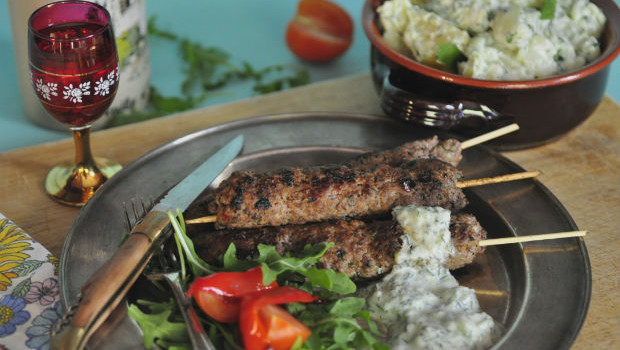 Published on February 1st, 2014 | by Gareth
2
Koftas, rugby and beers
This weekend offers me plenty to get excited about, I've got my first sailing race of 2014 (hopefully after an absence of 7 weeks boat time, I'll remember what to do), we have friends coming to stay, I bring dry January to a close and it's the start of the Six Nations rugby comp.
The latter is filled with mixed emotion. You'd think that the prospect of following your national team in your favourite sport would be cause for much celebration. The thing is though, when your team are playing on the other side of the world, Mr Time Zone demands that you get out of bed very early. In fact 6am on a Sunday is when I will be getting up and donning my England rugby jersey to watch the game on an iPad (that's if I can find a station showing the game over here).
The other catch, is the combination of a 6am kick off and guests staying in our single level flat means I will have to keep the noise down. Of all the times I choose to behave like an apologetic, reserved, 'sticky out hair' Englishman, it has to be when I really want to be a noisy, staunch fan. It's ridiculous. So this how it will be; 6am, I'm listening to the game through a pair of oversized headphones, a mug of tea (instead of beer), sweating in my jersey with outbursts of silent jubilation as I jump around. This is of course assuming I can find a means of watching it online because Fox Sports are useless. Hopefully it will be supressed jubilance not frustration after the dire cricket tour.
Anyway, back to food, since England play France, I wanted to share something Anglo French. Then I remembered that the English and the French haven't collaborated since the war. But as luck would have it, my latest cookbook is a French inspired cookbook, My Little French Cookbook by Rachel Khoo. Great book. Anyway one of the recipes is for koftahs. This is a Middle Eastern dish,  (so really not at all French). It's across between a skinless banger and a meatball on a stick. Perfect for the BBQ, a beer and a warm Aussie summer. In the end, I created my own recipe but inspiration is attributed to the lovely Ms Khoo. Thank you.
I also made a tzatziki potato salad, by mixing up some tzatziki with some boiled potatoes. A last minute thought, that I think was a success. All up a simple combo that even the kids will eat, perhaps just reduce the chilli.
Serves 4-6
Preparation time: 10 minutes plus 1 hour chilling time
Cooking time: 5-10 minutes
Equipment: Large bowl, frying pan, saucepan, wooden or metal skewers 
Ingredients
Koftas
1 kg lean minced veal
1 kg lean minced beef
1 onion – peeled and finely chopped
3 cloves garlic – finely chopped and crushed to a paste
½ cup fresh parsley – finely chopped
1 tbsp. fresh rosemary – finely chopped
1 tsp. sumac
1 tsp. dried chilli flakes
Zest of one lemon – finely chopped
½ cup breadcrumbs
Tzatziki potato salad
1kg of potatoes (Desiree, Pink Eye, Kipfler)
Method
Mix all of the kofta ingredients together thoroughly in a large bowl.
Cover with plastic wrap or a clean tea towel and chill in the fridge for at least 1 hour to bring all the flavours together.
15 minutes before cooking, remove from fridge, take a handful of the kofta mixture and mould it in a sausage shape around a skewer. Repeat until all the mix is used up.
To cook, brush with a little olive oil and cook on the BBQ for 5-10 minutes (turning as you go like sausages) or do the same in a hot frying pan or griddle pan. You may need to add a little oil to the pan.
When the koftas are well cooked and have a nice bbq tan (deep caramelised brown).
For the tzatziki potato salad, just peel, chop and boil potatoes (pan of cold water covering the potatoes, put lid on, bring to the boil and boil for 5 minutes, drain and leave to cool).
Mix the boiled potatoes with the tzatziki.
Chill for 30 minutes.
Serve with Turkish bread, salad and lots of cold beer.