Red Meat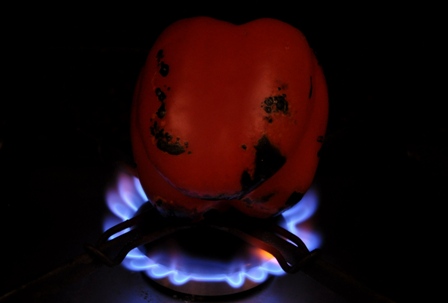 Published on May 29th, 2011 | by Gareth
1
Gourmet Sausage sizzle
The good old sausage sizzle is an antipodean icon, crucial to so many fundraisers for clubs, girl guides, rugby clubs and schools. For those of you back in the old country who maybe wondering what a sausage sizzle is….basically it's a barbeque with just two things dancing on the hotplate; sausages and onions. This is traditionally served cheap, white sliced bread with a squirt of tomato sauce for the princely sum of $1. The soft onions and tomato sauce oozing out of the sliced bread are comforting and satisfying, especially when it's raining and you are trying to warm up.
Over the weekend I wanted to give this half time snack a bit of an upgrade using some quality ingredients. I used premium sausages from a local butcher and played around with a few char grilled vegetables for a more 'Texan' theme.
Preparation time: 5 minutes
Cooking time: 45 minutes
Ingredients
4 good quality sausages, minimum 80% meat. I used chicken and capsicum and a couple of bratwursts.
1 red capsicum (pepper)
2 cobs of sweet corn
4 fresh rolls, hotdog rolls or mini baguettes are perfect.
2 onions
Dijon mustard
Tomato sauce
3 tsp olive oil
Method
Peel and slice the onion.
Heat the oil in a saucepan and add the onion. Cook over a low heat for 40 minutes. Stir occasionally. This will reduce the onion to a beautifully caramelised pulp.
Heat a griddle pan and slowly cook the sausages on a low heat for 40 minutes. At the end of this the sausages will be sticky and have greater depth of flavour.
Char the outside of the corn and capsicum. If you don't have a blow torch (mine was out of gas) a gas hob or bbq will do the trick nicely giving it a nice smoky taste.
Once charred, pop the corn and capsicum on a tray in the oven on 150 degrees.
After 5-10 minutes the corn will be done, remove and wrap in foil to keep warm.
The capsicum usually needs a further 10 minutes.
When the capsicum is soft remove from the over.
Peel the blackened skin off and de-seed this can be discarded.
Cut the capsicum flesh into strips and chop the corn cobs in half.
Slit the rolls (heat in the oven for 10 minutes if you like them crusty and warm).
Add a generous serve of onion and capsicum and then a sausage.
Top with Dijon mustard and tomato sauce, pickles are a great addition too.
Serve immediately while still hot.