Red Meat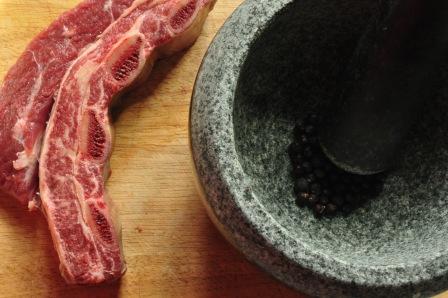 Published on November 15th, 2010 | by Gareth
0
Barbequed ribs – part 1
The sunshine has been blazing in Sydney and I cannot think of a better way to end a sunny day than a barbeque.  I fancied some good old ribs on the barby.  A challenge was laid with a friend and a 'rib off' ensued.  Part one, (which doesn't come with free binder) is my entry, part two is my friend's spicy pork ribs.
After reading through a few recipes I decided to break from the traditional pork ribs and source some beef short ribs (they are less fatty than spare ribs).  TJ's organic meats, located in Balmain, seems to be the only butcher in the inner west that have beef short ribs in stock.  They showed me the whole rack of ribs which was interesting as previous experience had limited me to pre-pack, pre-cut pork ribs.  Even more importantly it allows me to decide how thick I want them cut. TJ's butchers offer a fantastic selection of meat plus great service.
I've adapted my recipe from one I found in the Master Chef magazine by Gary Mehigan (very reasonably priced and not a bad read). The original recipe called for pork.
The secret to good ribs is to roast them in the oven after an initial blast on the barbeque, so as you can imagine this is definitely a recipe to start well in advance.  All up, this will take about 3 hours, but the patience is justly rewarded, sweet, tender and sticky ribs, yum!
Excuse my photo's, they turned out a little less successful than the ribs.
Marinade Ingredients
1.5kg beef short ribs (spare ribs
2 tbs clear honey
1 tbsp dijon mustard or mustard powder
2 tsp tomato puree
1 clove garlic, crushed
1 tbsp dried oregano
½ tsp chilli powder
½ tsp paprika
1 tsp cumin
Cooking Sauce Ingredients
1 onion, diced as finely as possible
1 clove garlic, crushed to a paste
1 roma tomato, finely diced
1/2 red capsicum finely diced
½ cup malt vinegar
½ cup dark rum, bourbon or whisky
1 cup brown sugar, muscovado is best but plain brown or even raw sugar works well.
1 tsp cumin
1 tomato puree or ketchup
1 tbsp dijon mustard
2 bay leaves
1 cinammon stick
Zest of 1 lime
 Method
Mix the marinade ingredients in a bowl.
Rub marinade into the beef ribs.
Cover and pop in the fridge for 2 hours.
For the cooking sauce, heat a good lug of olive oil in a pan and slowly cook the onion over a medium heat until a deep golden colour.
Add the garlic, capsicum and chopped tomato and cook for 2 minutes.
Add the remaining ingredients, cover and simmer for 10 minutes.
Barbeque the marinated ribs for a few minutes to get a good dark colour all over.
Transfer to a pre-heated oven (200C) in a roasting dish.  Pour the cooking sauce over the ribs. Cover the ribs in foil and cook for 1 ½ hours.
Remove the foil and roast until tender (approximately 40 minutes).  Keep an eye on them and turn when necessary to stop them burning.
Serve with spicy wedges, salad and a cold beer.  This goes nicely with a nice Hunter Valley Shiraz or a big Riesling.
Part two spicy pork ribs and the rib off results to follow…..