Preserves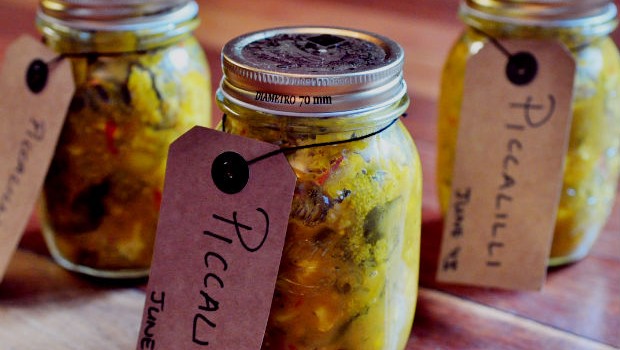 Published on June 23rd, 2013 | by Gareth
0
Piccalilli – Crunchy & spicy pickle
The day after the first British & Irish Lions test against the Wallabies seems an appropriate time to share a recipe for one of Britain's favourite pickles; Piccalilli. Especially given the ingredients used, make the pickle green and yellow. Like last night's game it has an exciting blend of ingredients and textures.
Piccalilli is made with a variety of veg, Indian spices, vinegar and mustard. In Britain it's often served with a ploughman's lunch (bread, ham, cheese, tomatoes).  Like the Lions rugby team it has a long history (the oldest recorded piccalilli recipes date back to the 18th century).  The origin is unclear, but I reckon the 'old empire' took a shine to Indian pickles and decided to create an Anglo-Indian condiment when they returned to the homeland.
As you may have gathered from the opening line, I enjoy rugby. Last nights match delivered plenty of nail biting excitement, which had me on the edge of the sofa, shouting in both celebration and spicy criticism of the ref's decisions. Not to mention offering advice to the players, does it get any more cliché? I'm sure they will take my suggestions on board.
Rugby hysteria over, well until next week, it's time to get down to food. The original recipe was from Jamie Oliver. I made a few changes like adding ginger, extra garlic and substituting fresh mango for diced Granny Smith's apple. Plus I cooked it a little longer.
Preparation: 2hrs (mainly leaving veg to soak so you can be off doing something else)
Cooking time: 15 minutes
Makes 4 large jars
Ingredients
1 medium cauliflower – chopped into very small florets
1 medium broccoli – chopped into small florets
300g runner beans/string beans – chopped into 1-2cm pieces
3 Granny Smith apples – 2 peeled and grated and 1 peeled and diced
1 tsp. fresh grated ginger
2 red chilli – deseeded and finely sliced
1 green chilli – deseeded and finely sliced
2 red onions – finely diced
1 tbsp. mustard seeds
2 tbsp. cumin
2 tbsp. English mustard powder
2 tbsp. turmeric powder
2 tsp. sugar
1 tbsp. sea salt
2 tbsp. oregano
2 dried bay leaves
¼ cup fresh curry leaves
½ nutmeg – grated
180ml white vinegar (cider vinegar and white wine vinegar also work well)
4 cloves garlic – finely sliced
2 tbsp. canola oil
2 tbsp. Plain flour
Method
Soak the runner beans, cauliflower and broccoli florets in salted water for 2 hours. This will reduce the water content of the veg, which means it will keep a bit of crunch and wont water down your pickle.
Heats the oil in a large pan, then add the oregano, turmeric, mustard seeds, mustard powder and cumin. Cook for two minutes.
Add the grated nutmeg, garlic, ginger, flour, bay leaf and curry leaves. Cook for another few minutes over a low heat.
Add the vinegar, sugar, grated apple, diced onion and the chilli and cook for a further two minutes.
Drain the veg and stir into the sauce. Cook for 10-12 minutes over a medium heat.
When the veg has been thoroughly mixed it should all hold a deep yellow colour. Taste and season as necessary then transfer to sterilized jars and seal.
Piccalilli is best left for 3-4 weeks to allow the flavours to blend before eating.
Whats your favourite condiment?