Pork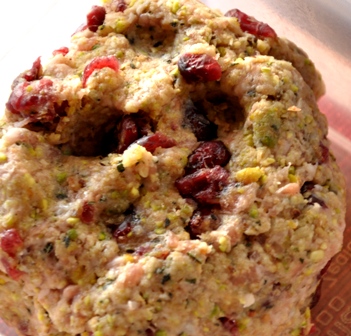 Published on December 22nd, 2011 | by Gareth
5
Pistachio and Cranberry stuffing
On Sunday, in homes all over the world there is bound to me minor squabbles over the 'best bits' of the Christmas dinner. In our house it was usually the leg, stuffing or the last roasty potato. There would be much tutting and poking out of the tongue by the looser and triumphant grin from the victor of the last spoonful of stuffing.
Stuffing though humble in origin is often seen as one of the ultimate trimmings. I love the stuff (sorry no pun intended). The thing is I loathe packet mix stuffing, sage and onion is great but not when is resembles dust. I was always taught that if a job is worth doing then do it properly. With this in mind I wanted to share the stuffing recipe of choice this year in the house of Humble Crumble.
Ingredients
 500g good quality pork sausage meat.  Get this from the butcher or buy some decent sausages and slice them open.
1 medium sized onion
1tblsp finely chopped fresh sage
1 tblesp finely chopped fresh thyme, (leaves only)
1 cup of breadcrumbs
½ cup dried cranberries
½ cup unsalted, shelled pistachio nuts, finely chopped.
Salt and pepper to season, (healthy pinch of each).
Good pinch of nutmeg
1 egg beaten – optional (you may not need this depending on how the mix binds together)
Method
 Chop the onion as finely as possible, alternatively grate it.
Mix all the ingredients together.
Leave in the bowl, cover and store in the fridge for 20-30 mins.
Carefully lift the skin away from the breast meat with fingers and a teaspoon and push some of the stuffing under the skin.
I usually put some of the stuffing in the cavity just don't fill the cavity as it will take an age to cook properly.
Any remaining stuffing can be made into balls and cook in a separate tray with a smidgen of goose fat.