Chicken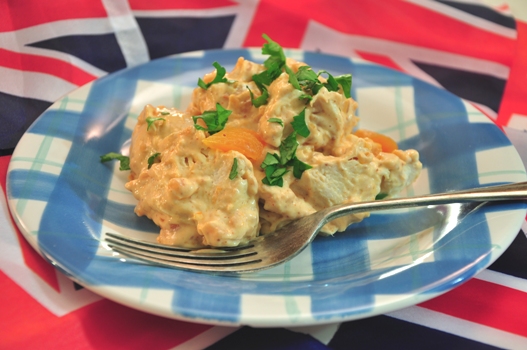 Published on June 3rd, 2012 | by Gareth
0
Coronation Chicken
This weekend is a very special one in Britain as it is the Queen's Diamond Jubilee. To mark 60 years on the throne there will be festivities and celebrations all over the country. The streets are awash with red white and blue bunting and Union flags (it's only called the Union Jack when flown at sea).
As with many jubilee's past, street parties will be held up and down the country. In case you are left wondering, as the name suggests it's a party held in the middle of the street.  Closed off from traffic, the street is decorated with flags, flowers and more buntings. Residents traditionally organize impressive spreads of food on communal tables in the middle of the street. It's an opportunity for neighbours to get together for a 'right ol knees up'.
It is at times like these that I feel homesick for mother England, the land of hope and glory. Not to be disadvantaged for being an ex pat, I decided to throw our street come garden party to celebrate the Diamond Jubilee.
A gathering for such an occasion wouldn't be complete without Coronation Chicken.  This is a chicken dish with a spicy mayonnaise based sauce that Rosemary Hume and Constance Spry created in 1953 to mark the Queen's coronation. It is very versatile being equally at home as the hero to a nice peppery watercress salad, in a sandwich or even as a topping on a baked potato.
I have adapted a recipe from Pamela Gwyther, the main difference in mine being the use of tandoori paste over curry powder and crème fresh instead of yoghurt.
Ingredients
4 boneless chicken breasts
1 bay leaf
1 small onion, sliced
1 carrot, sliced
Salt and pepper
4 peppercorns (no need to slice them)
1 tsp olive oil
2 shallots, finely chopped
2 tsp tandoori paste (or curry paste)
2 tsp tomato paste (you can omit this if  using tandoori paste)
juice of ½ lemon
300ml low fat mayonnaise – if using thick mayo 200g)
150ml crème freshe or 100g. Natural yoghurt works equally well.
85g dried apricots, chopped
2 tsp chopped parsley
Method
Put the chicken, sliced carrot, bay leaf, peppercorns, salt and onion in a large saucepan. Fill with water until the chicken is submerged and place over a medium heat until boiling.
Once the water is boiling, reduce the temperature and simmer for 20 minutes.
Remove the chicken and set aside to cool. Do not discard the liquor from cooking though.
In a separate pan cook the shallots over a low heat until they are soft. Do not allow them to brown though.
Add the tandoori paste, lemon juice and 150ml of the stock from the chicken. Simmer until the sauce has reduced and thickened, then set aside to cool.
Shred the chicken.
Mix the crème fresh, mayonnaise and apricots then add the tandoori sauce.
Add the chicken and finally garnish with fresh chopped parsley.
Cool Britannia!